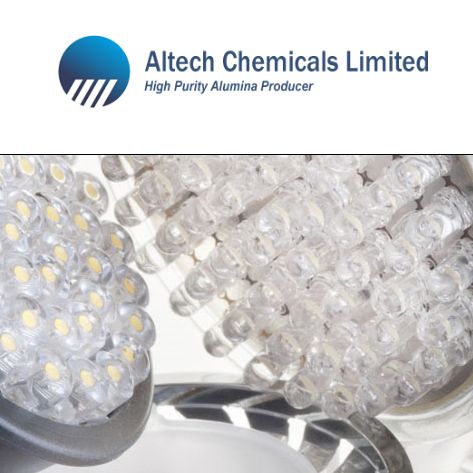 Works Approval Granted for Meckering Kaolin Deposit
Perth, Aug 30, 2017 AEST (ABN Newswire) - Altech Chemicals Limited (Altech/the Company) (

ASX:ATC
) (

FRA:A3Y
) is pleased to advise that its works approval application for a screening and loading facility at the Company's Meckering kaolin deposit (M70/1334) was granted by the Western Australia (WA) Department of Water and Environmental Regulation (DWER) on 25 August 2017.
Highlights
- Works approval granted by WA Department of Water and Environmental Regulation (DWER)
- Construction of kaolin screening and loading facility at Meckering approved
- Works include ROM stockpile, evaporation pond, trommel screening unit, and loading facility
- Mining approval for Meckering previously received
- Meckering kaolin mining and processing now fully permitted to proceed, subject to funding
The works approval permits the construction of kaolin screening and loading facility infrastructure, to be located adjacent to the proposed Run of Mine (ROM) stockpile, at the Company's Meckering kaolin deposit. Positioned within Altech's granted mining lease M70/1334, the Meckering kaolin deposit is located at Leeming Road, Warding East, approximately 140km east of Perth and 8km south-east of the town of Meckering, Western Australia.
At Meckering, mined kaolin ore will be screened to a size of <12mm via a trommel screening unit. The <12mm screened ore will proceed to a housed container loading facility, where it will be fed into standard 20-foot shipping containers via a telescopic container feed conveyor. Once loaded, the shipping containers will be transported by road to the port of Fremantle, for shipment to Johor, Malaysia, the location of the Company's proposed high purity alumina (HPA) processing plant.
This announcement of works approval for Meckering follows the Company's 10 March 2017 announcement confirming the approval of a mining proposal and mine closure plan for the Meckering deposit by the WA Department of Mines, Industry Regulation and Safety (DMIRS) (formerly Department of Mines and Petroleum).
Commenting on the approval of works, managing director Mr Iggy Tan said, "We are pleased to receive notification of the approval of works for the kaolin screening and loading facility at Meckering, which will provide feedstock for the Company's proposed Malaysian HPA processing plant. The Altech team has been working hard to advance all approvals required for Meckering, and this has now been achieved. This means that subject to funding, construction and mining operations at Meckering can commence.
To view figures, please visit:
http://abnnewswire.net/lnk/2FIFKQBU
About Altech Chemicals Ltd

Altech Chemicals Limited (ASX:ATC) (FRA:A3Y) is aiming to become one of the world's leading suppliers of 99.99% (4N) high purity alumina (HPA) (Al2O3).
HPA is a high-value, high margin and highly demanded product as it is the critical ingredient required for the production of synthetic sapphire. Synthetic sapphire is used in the manufacture of substrates for LED lights, semiconductor wafers used in the electronics industry, and scratch-resistant sapphire glass used for wristwatch faces, optical windows and smartphone components. There is no substitute for HPA in the manufacture of synthetic sapphire.
Global HPA demand is approximately 25,315tpa (2016) and demand is growing at a compound annual growth rate (CAGR) of 16.7% (2016-2024), primarily driven by the growth in worldwide adoption of LEDs. As an energy efficient, longer lasting and lower operating cost form of lighting, LED lighting is replacing the traditional incandescent bulbs.
Iggy Tan
Managing Director
Altech Chemicals Limited
Tel: +61-8-6168-1555
Email: info@altechchemicals.com

Shane Volk
Company Secretary
Altech Chemicals Limited
Tel: +61-8-6168-1555
Email: info@altechchemicals.com

Investor Relations (Europe)
Kai Hoffmann
Soar Financial Partners
Tel: +49-69-175-548320
Email: hoffmann@soarfinancial.com
Related CompaniesAltech Chemicals Ltd