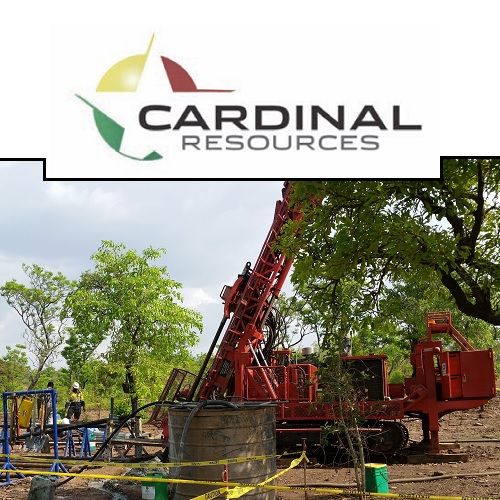 Cardinal Discovers New 4km Long Gold Auger Soil Anomaly
Perth, Aug 14, 2017 AEST (ABN Newswire) - Cardinal Resources Limited (

ASX:CDV
) (

TSE:CDV
) ("Cardinal" or "the Company") is pleased to announce the identification of significant auger gold-in-soil anomalies within the Kungongo Prospect ("Kungongo") of the Company's Bolgatanga Project, located in the Upper East Region of Ghana (see Figure 1 in the link below).
Highlights
- Significant auger gold-in-soil anomalies discovered on Cardinal's 100% Kungongo Prospect
o 4.2 km x 300m major auger gold-in-soil anomaly identified with +100ppb gold anomaly along entire strike
o 800m x 250m secondary auger gold-in-soil anomaly identified with +100ppb gold anomaly along entire strike
- RC / DD drill programme planned to evaluate soil anomalies with drilling anticipated to commence by the end of this month
Cardinal's Chief Executive Officer / Managing Director, Archie Koimtsidis said:
"We are delighted to announce a new discovery of auger gold-in-soil anomalies within the Kungongo Prospect located close to our Namdini Project.
"The dimensions of these soil anomalies are several orders of magnitude greater than the average background gold mineralisation values which is extremely encouraging at this very early stage.
"This new discovery provides confidence for Cardinal to expand its exploration activities to other parts of the Bolgatanga Region.
"Drill testing under selected targets is planned to commence during this quarter."
The Kungongo prospect is located in NE Ghana some 25 km SW of Bolgatanga town and 45 km west of Cardinal's Namdini project. The prospect covers an area of 120 sq km.
The extensive regional Bole-Bolgatanga shear zone occurs over a length of 6.5 km across the NW corner of the tenement (see Figure 2 in the link below). The tenement contains Birimian greenstones which extend north east of the tenement boundary. Granitoids occur over a large portion of this tenement.
The Bole - Bolgatanga shear zone is regarded as prospective as it displays a level of structural complexity that would possibly provide structural trap positions for mineralizing fluids. The Kungongo permit straddles the contact between the Bole Greenstone Belt and the granodiorite intrusive for some 6.5 km. Several anomalous gold occurrences have been identified along this contact and some late alkaline intrusives are known to have gold associated with them along their margins.
Various geophysical surveys have been carried out over the Kungongo Prospect by Cardinal. These have been processed and interpreted by Southern Geoscience Consultants (SGC Perth). These included:
1. Airborne magnetic-radiometric survey with interpretation and targets.
2. Gradient Array IP-Resistivity survey with interpretation and targets.
3. Ground magnetic survey.
The initial interpretation assumes the rocks and stratigraphy and/or structure are most likely dipping to the northwest as the resistivity and chargeability patterns tend to suggest this. Cardinal plans to test this with the upcoming drill programme.
The targets within the prospect area have been covered with detailed auger drilling which samples the saprolite horizons below the overburden to delineate areas of gold anomalism that could then be correlated with the geophysical targets to determine follow up priorities.
Drill testing under selected targets is planned to commence during this quarter.
To view tables and figures, please visit:
http://abnnewswire.net/lnk/OZ1RM6UT
About Cardinal Resources Ltd

Cardinal Resources Ltd (ASX:CDV) (TSE:CDV) (OTCMKTS:CRDNF) is a West African gold-focused exploration and development Company which holds interests in tenements within Ghana, West Africa.
The Company's Namdini Project has a declared Indicated Mineral Resource of 120 Mt @ 1.1 g/t for 4.3 Moz Au and an Inferred Mineral Resource of 84 Mt @ 1.2 g/t for 3.1 Moz (refer to Cardinal "Technical Report on Namdini" dated 11 September 2017). The Company is focused on the development of the Namdini Project through a resource expansion drilling programme and continues to advance the PEA / Scoping Study which is now due for release in Q1 2018. In parallel, a pre-feasibility study is progressing supported by additional multi-disciplinary engineering activities. Exploration activity is also underway on its large portfolio of regional exploration Licenses.
For more information on the Company, Investors should review the Company's filings that are available at http://www.sedar.com

Archie Koimtsidis
CEO / MD
Cardinal Resources Limited
P: +61-8-6558-0573

Alec Rowlands
IR / Corp Dev
Cardinal Resources Limited
P: +1-647-256-1922
Related CompaniesCardinal Resources Ltd