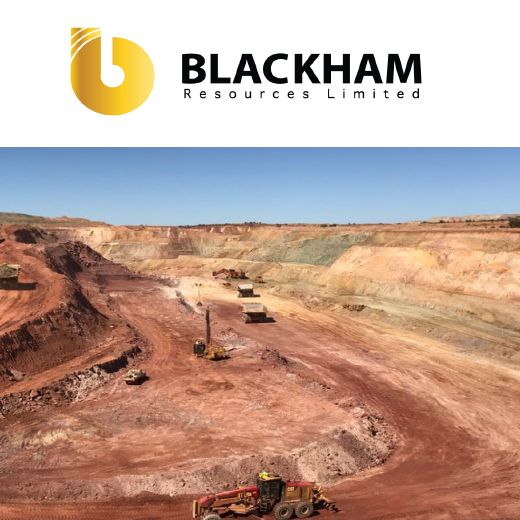 Matilda/Wiluna Production Update
Perth, July 17, 2017 AEST (ABN Newswire) - Blackham Resources Ltd (

ASX:BLK
) (

OTCMKTS:BKHRF
) ("Blackham" or "the Company") wishes to provide a production update from its 6.4Moz Matilda/Wiluna Gold Operation.
Gold Production
Gold production for the Jun'17 quarter was 15,709oz (14,920oz Mar'17 Qtr). Significant improvements in crusher and mill performance were seen during the quarter, however lower grade profile resulted in lower than forecast production.
Gold production for the Sep'17 quarter is expected to increase due to both higher tonnes processed and a higher grade profile from the open pits.
Open Pit Mining
The Matilda open pits have experienced slow ore dig rates due to the wet conditions and wall slips reducing the total ore mined. Strip ratios during the Jun'17 quarter were reduced to 11.9 times (Mar'17 Qtr: 15.2 times) but are still significantly higher than the 8:1 life of mine strip ratio. Stripping ratios are expected to be reduced next quarter.
The higher investment in waste stripping this half has allowed access to expected higher grade ore in the Sept'17 quarter. Mining at the higher grade Galaxy pit started in early April. Access to the higher grade zones in the M4 pit are expected to be achieved during July.
Underground Mining
Both development and stope tonnes were lower than forecast resulting in underground gold mined during the Jun'17 quarter being 1,300oz below forecast. The Golden Age underground represented approximately 20% of the gold produced during the Jun'17 quarter.
Gold Processing
Crushing circuit - The crushing circuit operated at or above nameplate during May and June after being rain affected at the start of April. Poor crusher performance was experienced for the 5 days at the end of the quarter due to a secondary crusher rebuild.
Mill Throughput - The milling circuit achieved 98% of nameplate design for the quarter. Fine ore shortages due to poor weather in the first week of April and secondary crusher maintenance in the last week of June, resulted in lower throughput. Sep'17 quarter mill throughput is expected to be 450,000t (416,000t Jun'17 quarter).
Grade profile - Mill feed head grade profile during the quarter was hampered by 25% of feed being from low grade stockpiles. The significant investment in waste removal will allow access to higher grade ore in the M4 and Galaxy pits which are expected to provide higher head grades during the next 2 quarters.
Leach, Elution Circuits and Gold Room - The leach circuit is working very well and total plant recoveries have been strong (92%) during the quarter.
The quarterly report is currently being prepared and is planned to be released by the 25th July 2017.
To view tables and figures, please visit:
http://abnnewswire.net/lnk/80046KP6
About Blackham Resources Ltd

Blackham Resources Limited (ASX:BLK) (OTCMKTS:BKHRF), is an emerging gold producer focused on its Matilda Gold Project in Western Australia where mining and production is imminent. The Matilda/Wiluna Gold Operation incorporates over 1,000 square kilometres of tenements containing total JORC 2012 resources of 63Mt @ 3.2 g/t for 6.4Moz of gold. These tenements cover around 55 kilometres of strike along the Wiluna Mine Sequence and 10 kilometres of strike along the Coles Find Sequence. The Wiluna Mine and Coles Find Sequence has historically produced 4 million ounces of gold.
All the deposits are within 26 kilometres by existing haul roads of Blackhams recently acquired Gold Plant. With exploration prospects at Mt Poole, Monarch, Carroll Prior, Red Lady, Zenith, Island and Albion in the Lakeway area provides the company with excellent exploration areas for potential future projects.
Bryan Dixon
Managing Director
Blackham Resources Limited
Office: +61-8-9322-6418

Jim Malone
Investor Relations Manager
Blackham Resources Limited
Office: +61-8-9322-6418
Related CompaniesBlackham Resources Ltd