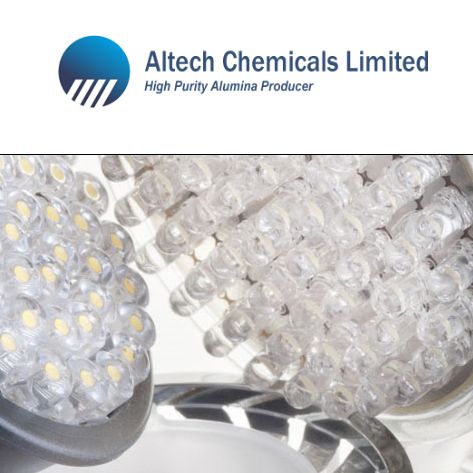 $1.85 Million Raised via SPP and Placement
Perth, June 13, 2017 AEST (ABN Newswire) - Altech Chemicals Limited (Altech/the Company) (

ASX:ATC
) is pleased to announce that it has raised $1.85 million via the Share Purchase Plan (SPP), which closed on Wednesday 7 June 2017, and a concurrent placement of shares to various professional and sophisticated investors.
Highlights
- $1.85 million raised via SPP and share placement
- Issue price of $0.11 per share
- In excess of 250 shareholders participated
The issue price of the SPP shares and the placement shares is 11 cents per share. This is a 5% discount to the volume weighted average price of the Company's shares as traded on the ASX during the 5 days up to and including 7 June 2017, rounded down to the nearest half cent.
Altech managing director, Mr Iggy Tan said, "the Company is extremely pleased with the support shown from its existing shareholder base via participation in the SPP. In excess of 250 shareholders participated in the SPP, with a large number electing to apply for the maximum application amount of $15,000.
Concurrent with the SPP, the Company is delighted to welcome a small number of new European based shareholders that have been recently introduced to the Company and were placed shares at the SPP price."
About Altech Chemicals Ltd

Altech Chemicals Limited (ASX:ATC) (FRA:A3Y) is aiming to become one of the world's leading suppliers of 99.99% (4N) high purity alumina (HPA) (Al2O3).
HPA is a high-value, high margin and highly demanded product as it is the critical ingredient required for the production of synthetic sapphire. Synthetic sapphire is used in the manufacture of substrates for LED lights, semiconductor wafers used in the electronics industry, and scratch-resistant sapphire glass used for wristwatch faces, optical windows and smartphone components. There is no substitute for HPA in the manufacture of synthetic sapphire.
Global HPA demand is approximately 25,315tpa (2016) and demand is growing at a compound annual growth rate (CAGR) of 16.7% (2016-2024), primarily driven by the growth in worldwide adoption of LEDs. As an energy efficient, longer lasting and lower operating cost form of lighting, LED lighting is replacing the traditional incandescent bulbs.
Iggy Tan
Managing Director
Altech Chemicals Limited
Tel: +61-8-6168-1555
Email: info@altechchemicals.com

Shane Volk
Company Secretary
Altech Chemicals Limited
Tel: +61-8-6168-1555
Email: info@altechchemicals.com

Investor Relations (Europe)
Kai Hoffmann
Soar Financial Partners
Tel: +49-69-175-548320
Email: hoffmann@soarfinancial.com
Related CompaniesAltech Chemicals Ltd