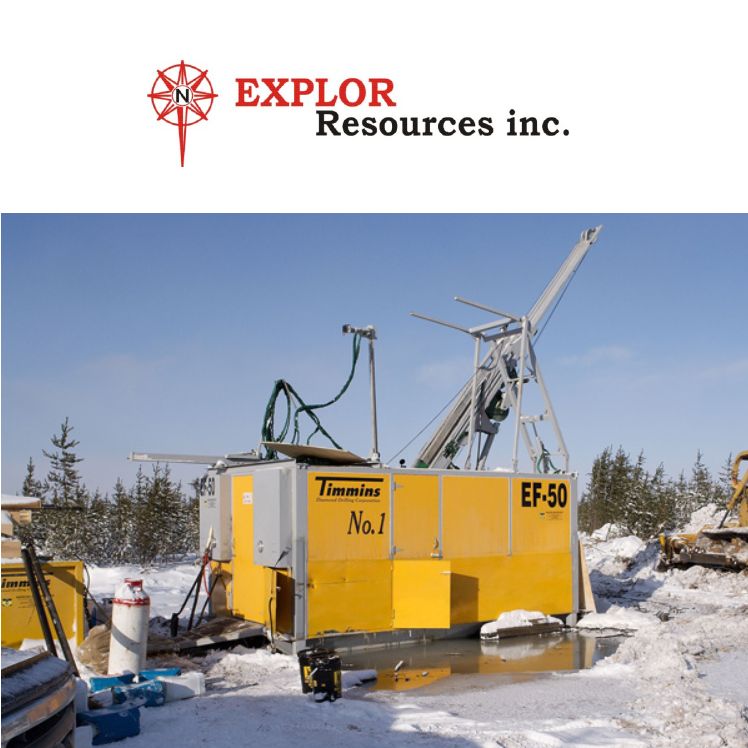 Why Toronto?
Sydney, June 7, 2017 AEST (ABN Newswire) - GOLD prices are moderately up and have hit a six-week high in early trading Tuesday, June 6. A weakening USD, emerging geopolitical factors, and an increasingly bullish near-term technical posture are prompting more trader and investor buying interest in the yellow metal. GOLD prices are now within striking distance of the key $1,300.00 mark. That can only bode favourably for Explor Resources Inc. (

CVE:EXS
) (

FRA:E1H1
) (

OTCMKTS:EXSFF
), given the Timmins Porcupine West GOLD Deposit 'Definition' drilling currently underway.
The focus there has been to fill in gaps between existing drill holes, and deepen other selected drill holes, in an effort to further expand the GOLD resource estimates of the deposit. The rumour I'm hearing is the crew have completed deepening of one hole, and reached depth on two step-out holes. They are currently deepening a second existing hole. This 3,000 meter Drilling Program is intended to further define the eastern section of the known GOLD Deposit, by intersecting the GOLD rich shear zones prevalent in previous work done. Apparently, as many as four shear zones have been found in all the holes drilled, or deepened thus far. That should encourage interest from both senior producers like Goldcorp & Tahoe, and intermediates like Kirkland Lake; Detour & Osisko.
Personally, I'm looking forward to a run of positive News Releases with results. This work should also strengthen the 'Open Pit' potential of the site, preferred by producers, as costs are substantially lower than underground operations. I heard from a number of investors last week who either had meetings set up with Dupont in Timmins, ON, or were expecting to visit with him at the annual Canadian Mining Exposition in Timmins May 31-June 1. CD often talks about the Exposition & how much he enjoys participating in the event. He's also been a keynote speaker on a number of occasions. So, the big question, why was he in Toronto instead of Timmins? I spoke with him briefly early Monday morning, and he told me he was pursuing some promising Joint Venture, and financing opportunities. He also said the outright sale of a couple of properties might also be possible.
But what was the urgency to go last week, instead of this week? To that question, a got a nervous little laugh as my answer. Who is headquartered in Toronto? Goldcorp, Kirkland Lake, Osisko, IAMGOLD, Detour GOLD. I can't think of any other reason, besides a family emergency, for him to cancel such important plans in Timmins, unless he had been summoned for discussions with one or more of those GOLD producers? Can you? Obviously, none of the Board can discuss anything of a 'material' nature until its announced. I've known Dupont long enough that I'm pretty convinced something important is brewing.
NOTE: This forum commentary was published from a third party source. It has not been verified by the company.
About Explor Resources Inc.

Explor Resources Inc. (CVE:EXS) (OTCMKTS:EXSFF) (FRA:E1H1) is a Canadian-based natural resources company with mineral holdings in Ontario, Quebec, Saskatchewan and New Brunswick. Explor is currently focused on exploration in the Abitibi Greenstone Belt. The belt is found in both provinces of Ontario and Quebec with approximately 33% in Ontario and 67% in Quebec. The Belt has produced in excess of 180,000,000 ounces of gold and 450,000,000 tonnes of cu-zn ore over the last 100 years. The Corporation was continued under the laws of Alberta in 1986 and has had its main office in Quebec since 2006.
Related CompaniesExplor Resources Inc.