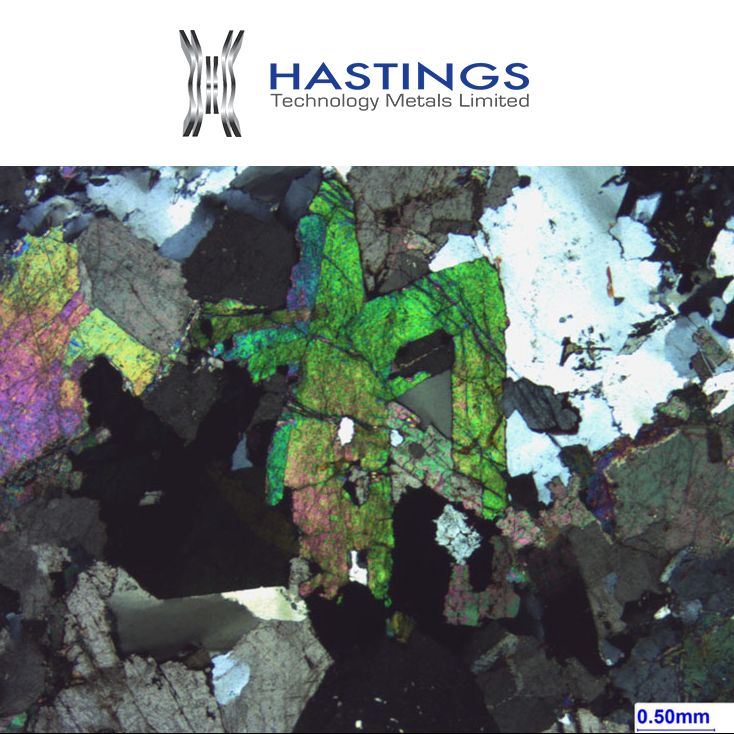 Final DFS Drilling Programme Commences at Yangibana
Sydney, May 16, 2017 AEST (ABN Newswire) - As part of the Company's soon to be completed Definitive Feasibility Study (DFS), Hastings Technology Metals (

ASX:HAS
) (Hastings or the Company) has commenced its major 2017 drilling programme at the Yangibana Rare Earths Project in the Gascoyne region of Western Australia.
HIGHLIGHTS
- Resource Upgrade and Expansion Drilling Programmes Commence
- Infill drilling at well-defined deposits Fraser's, Bald Hill, Yangibana West and Yangibana North to upgrade current Inferred Resources
- Similar infill drilling planned for Auer and Auer North
- New prospects identified by the Company to be drilled to increase total Resources
- Objective is to increase Measured plus Indicated Resources to support a 10-year mining operation
- Further drilling planned post-DFS to further expand the life of the operation
The initial Phase 5 programme, that started in April, aims to expand the current JORC Measured and Indicated Resources at the four best defined deposits within the Project, namely Fraser's, Bald Hill, Yangibana West and Yangibana North (Figure 1), by additional infill drilling within the current Inferred Resources at these sites.
First results are expected within the next two weeks
The second programme, Phase 6, will commence in mid-May and targets prospects that do not currently host Measured or Indicated Resources. Prospects such as Auer and Auer North, that currently host Inferred Resources of 1.39 million tonnes at 1.03%TREO including 0.37%(Nd2O3+Pr2O3), will be upgraded by infill-drilling.
Prospects identified by Hasting's exploration, such as Yangibana, Yangibana South and Simon's Find, will be drill-tested. Based on the Company's assessment of historical exploration results and its own sampling, Yangibana and Yangibana South are considered to be exciting prospects because of the high ratio of the target neodymium plus praseodymium oxides to Total Rare Earth Oxides (Nd+Pr:TREO) encountered in historical (1980s) drilling and Hastings' rock chip sampling. Limited rock chip sampling in the Simon's Find area, that covers the mineralised unit between Bald Hill and Fraser's deposits, has also returned similar high ratios. Locations of these targets are shown in Figure 1 in link below.
Drilling will also test the proximity of the major intersection in hole BHW04 as announced in the ASX release dated February 2nd 2017. This intersection lies outside the current JORC resources at Bald Hill and provides a significant prospective target for resource expansion.
The objective of this year's drilling programme is to increase Measured and Indicated Resources to support the 10-year mining and processing operation at 1.0 million tonnes per annum that is being evaluated in the DFS.
As announced in the ASX release dated January 17th 2017, current JORC resources are as shown in Table 1. This table highlights the neodymium and praseodymium oxide (Nd2O3+Pr2O3) contents of the resources along with the Total Rare Earths Oxides (TREO) value.

Category  Tonnes  Nd2O3+Pr2O3  TREO  Nd2O3  Pr2O3
                       %         %    ppm    ppm
-------------------------------------------------
Measured  2,155,000   0.42    1.01   3,410   770
Indicated 5,446,000   0.41    1.30   3,260   870
Inferred  5,807,000   0.36    1.12   2,820   770
TOTAL    13,408,000   0.39    1.18   3,100   810
-------------------------------------------------

Table 1 - Yangibana Project - JORC Resources January 2017
Phase 5 is nearing completion, with one reverse circulation (RC) rig and one diamond drilling (DD) rig in operation and Phase 6 will commence in the coming days.
The programmes include a significant diamond drilling component to provide additional data regarding grade distribution within the mineralised zones, specific gravity measurements, and geotechnical data under the supervision of Snowden Mining Industry Consultants (Snowden). This geotechnical data will feed into the pit optimisations to be carried out as part of Snowden's mining studies for the DFS, to be undertaken on completion of the drilling programmes and the subsequent resource estimation.
Once the DFS is completed the Company will assess the numerous additional targets that have been identified in fieldwork undertaken over the last three years and other targets based on the results of the 2016 geophysical programme.
TERMINOLOGY USED IN THIS REPORT
Total Rare Earths Oxides, TREO, is the sum of the oxides of the light rare earth elements lanthanum (La), cerium (Ce), praseodymium (Pr), neodymium (Nd), and samarium (Sm) and the heavy rare earth elements europium (Eu), gadolinium (Gd), terbium (Tb), dysprosium (Dy), holmium (Ho), erbium (Er), thulium (Tm), ytterbium (Yb), lutetium (Lu), and yttrium (Y).
To view tables and figures, please visit:
http://abnnewswire.net/lnk/625VS2Z9
About Hastings Technology Metals Ltd

Hastings Technology Metals Ltd (ASX:HAS) (FRA:5AM) is currently developing a rare earths mine and processing plant at Yangibana in the Gascoyne Region of Western Australia. The processing plant is anticipated to commence production of MREC in late 2019. Hastings has completed both beneficiation and hydrometallurgy pilot plants, in the process producing MREC samples which are high in neodymium and praseodymium content. These are critical materials for the production of permanent magnets and other technology applications. The MREC will be capable of being further separated and refined to produce a number of individual rare earth oxides outside of Australia. Hastings estimates an annual production quantity of 15,000 tonnes of MREC which it will sell to offtake partners globally.

Charles Tan
Chief Operating Officer
+61 457 853 839

Andy Border
General Manager Exploration
+61 487 888 787

Aris Stamoulis
Director Corporate Finance
+61 455 105 607
Related CompaniesHastings Technology Metals Ltd