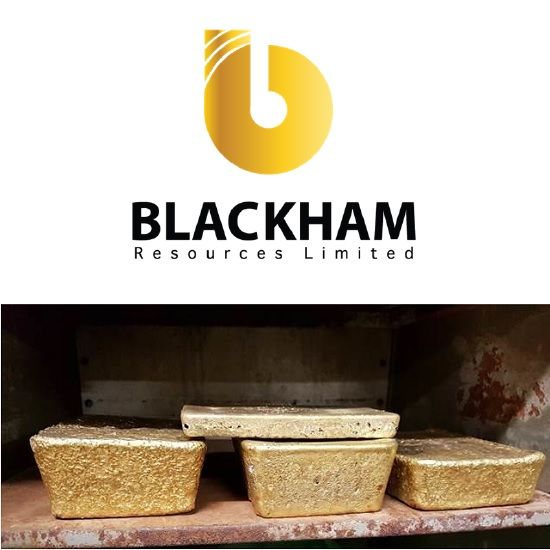 Presentation Sydney RIU Conference
Perth, May 10, 2017 AEST (ABN Newswire) - Blackham Resources Ltd (

ASX:BLK
) (

OTCMKTS:BKHRF
) is pleased to provide the Company's latest Presentation at Sydney RIU Conference.
Gold producer with exceptional growth opportunity
- Matilda/Wiluna Gold production commenced in Oct' 2016 and production ramping up
- Market cap ~ A$l 18M with strong liquidity ~ A$19/resource oz
- Resource 6.4Moz @ 3.2g/t, 4 large scaleable gold systems & over 1,000km2 landholding
- Preliminary Expansion study confirms plan to grow production beyond 200kozpa with long mine life
Blackham's mid tier producer ambitions
Wiluna Expansion Study confirms +200kozpa long mine life opportunity
Preliminary Expansion Study Highlights
Planning for Stage 2B combined processing capacity of 3.2Mtpa and to maintain +200,000ozpa gold production
- Targeted Production 1.3AAtpa over 9 year and growing
o Base load Open Pit Mining Inventory 14AAt @ 2.0g/t for 890koz
o High grade Underground Mining Inventory 4Mt @ 4.9g/t for 630koz o Total Mining Inventory 18Mt @ 2.7g/t for 1.52Moz
- LOM All in sustaining costs A$1,170/oz or US$860/oz
- Stage 2A Capital $24.9M for circa 0.75Mtpa
- Stage 2B Capital $80.5M for combined capacity 3.2Mtpa
Wiluna Expansion Study confirms +200kozpa long mine life opportunity
Preliminary Expansion Study Highlights
- Staged pathway to a flexible processing facility capable of unlocking the value of the both oxide and sulphide resources
- Combined oxide/sulphide operation has the ability to produce over 200,000oz Au per annum with a long mine life
- Completed 49,000m Wiluna open pit resource and reserve drilling programme has the potential to strengthen and lengthen the base load reserves profile
- Wiluna underground has 23Mt @ 4.7g/t for 3.3Moz outside the mine plan with the economics still to be fully evaluated which will include assessing at bulk mining opportunities.
- Ability to finance expansion capital out of Stage 1 cash flow and debt re-sizing
Blackham's Matilda/Wiluna Vision
- Gold production ramping up
- Preliminary expansion study confirms capital efficient production growth to 200-240kozpa (Stage 2)
- Gold producer with large scale gold systems, 6.4Moz resource and long mine life potential
To view the full presentation, please visit:
http://abnnewswire.net/lnk/13Q983ID
About Blackham Resources Ltd

Blackham Resources Limited (ASX:BLK) (OTCMKTS:BKHRF), is an emerging gold producer focused on its Matilda Gold Project in Western Australia where mining and production is imminent. The Matilda/Wiluna Gold Operation incorporates over 1,000 square kilometres of tenements containing total JORC 2012 resources of 63Mt @ 3.2 g/t for 6.4Moz of gold. These tenements cover around 55 kilometres of strike along the Wiluna Mine Sequence and 10 kilometres of strike along the Coles Find Sequence. The Wiluna Mine and Coles Find Sequence has historically produced 4 million ounces of gold.
All the deposits are within 26 kilometres by existing haul roads of Blackhams recently acquired Gold Plant. With exploration prospects at Mt Poole, Monarch, Carroll Prior, Red Lady, Zenith, Island and Albion in the Lakeway area provides the company with excellent exploration areas for potential future projects.
Blackham Resources Ltd
T: +61-8-9322-6418
F: +61-8-9322-6398
WWW: www.blackhamresources.com.au

Related CompaniesBlackham Resources Ltd