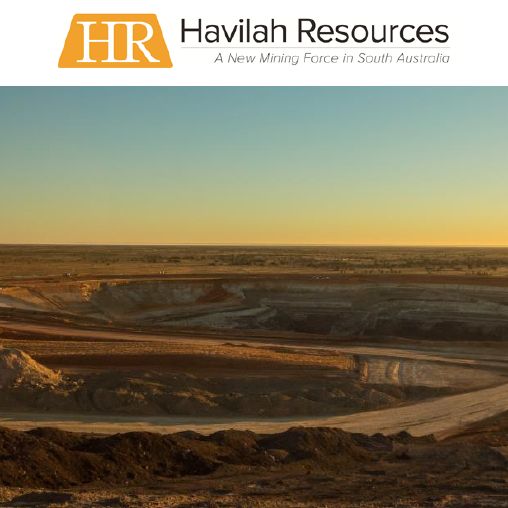 Copper Zone Confirmed at Croziers Target
Adelaide, April 18, 2017 AEST (ABN Newswire) - Havilah Resources Limited (

ASX:HAV
) ("Havilah" or "Company") is pleased to report first assay results from its PACE (Program for Accelerated Exploration) supported drilling program at the Croziers copper prospect 100 km northwest of Broken Hill, including:
CCRC 003: 5 metres of 0.90% copper from 69 - 74 metres
CCRC 004: 20 metres of 0.54% copper from 75 - 95 metres
CCRC 005: 15 metres of 0.45% copper from 83 - 98 metres
HIGHLIGHTS
- A shallow, well mineralised copper horizon confirmed by Havilah's PACE supported drilling.
- Copper mineralisation possibly extends for at least 400 metres down dip.
- Associated potentially economic grades of tungsten mineralisation.
These results confirm the presence of a shallowly east-dipping, depth persistent copper mineralised horizon. Croziers prospect lies approximately mid-way between Havilah's Kalkaroo and North Portia copper-gold deposits and is interpreted to be hosted by the same regional mineralised horizon (see map in the link below). Prior to Havilah's current drilling, the existence of this horizon at Croziers was suspected from a single deep intersection of 12.5 metres of 0.46% copper from 213.5 metres depth in an earlier MMG Exploration diamond drillhole (namely, drillhole BNG13DDOO1 - refer to ASX announcement 21 January 2014). Havilah's five shallow reverse circulation drillholes successfully tracked the copper mineralised horizon over 200 metres down-dip, and it potentially extends at least a further 270 metres down-dip to the previous MMG intersection (see cross section below) (see the link below).
All of the material in the reverse circulation drill chips is highly oxidised and weathered, so identification of original mineralogy is difficult. However, the observed abundance of magnetite and green calc-silicate minerals in association with chalcopyrite (copper sulphide) in MMG drillcore is indicative of skarn style mineralisation, which is typically formed by the interaction of granite-derived hydrothermal fluids with generally carbonate rich wall rocks. This is consistent with the proximity of a large granite body that lies less than 1 km to the west, based on interpretation of aeromagnetic data. Skarns host some of the world's largest and richest copper deposits, for example adjacent to the world class Grasberg porphyry copper deposit in West Papua.
Also of note is the frequently associated stratabound tungsten mineralisation, which is observed in Havilah's drillholes and many nearby shallow aircore holes drilled by MMG. For example, MMG drillhole BNGAC78 located 250 metres north of Havilah's drill line returned 50 metres of 1239 ppm tungsten from 10 metres depth, which included a potentially economic 10 metre interval of 2,756 ppm tungsten in the top 10 metres. The association of tungsten with copper, the abundant calc-silicate alteration minerals and proximity to granite all point to a strong comparatively high temperature replacement mineralising system. The widespread copper anomalism in adjacent air-core drillholes (red, orange and yellow dots in the picture at top) (see the link below) and associated magnetic anomalies are positive indicators for the discovery of extensions to this style of mineralisation.
Commenting on these results, Havilah Managing Director, Dr Chris Giles, said:
"We have found shallowly dipping copper mineralisation over a down-dip extent of potentially more than 400 metres, thus confirming our original exploration thesis in drilling these holes.
"The copper horizon is sufficiently thick to be of economic interest for an open pit mine in the upper parts.
"The associated tungsten mineralisation seen in these and a number of nearby drillholes is also potentially economically significant when combined with the copper mineralisation.
"Given the 50 metre wide spacing of drillholes and lack of previous reverse circulation drilling there is plenty of room for a sizeable copper-tungsten deposit, which we will follow up with further drilling in due course.
"Croziers lies roughly 10 km north of Kalkaroo within short trucking distance, which will enhance its development prospects even for a modest size deposit, given the shallow cover in this area.
"We are most grateful for the practical support provided by our State government's PACE initiative" he said.
To view tables and figures, please visit:
http://abnnewswire.net/lnk/9IW5252D
About Havilah Resources Ltd

Havilah Resources Ltd (ASX:HAV) is a debt free South Australian gold producer having recently financed and developed its first gold mine at Portia in north-eastern South Australia. It plans to follow on with three copper-gold-cobalt mining developments at North Portia, Kalkaroo and Mutooroo, which are underpinned by a JORC resources mineral inventory of over 1.4 million tonnes of copper, 3.6 million ounces of gold, and 18,000 tonnes of cobalt.
Dr Chris Giles
Managing Director
Havilah Resources Ltd
T: +61-8-8338-9292
F: +61-8-8338-9293
E: info@havilah-resources.com.au
WWW: www.havilah-resources.com.au
Related CompaniesHavilah Resources Ltd