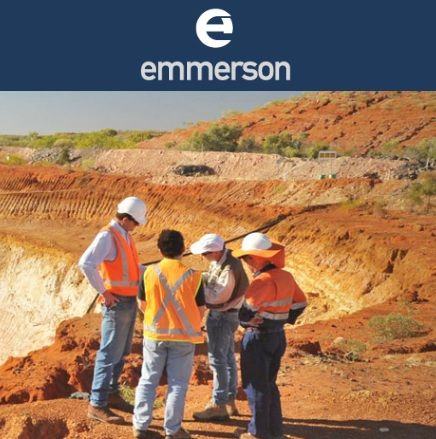 High Grade Gold Continues at Tennant Creek
Perth, Dec 6, 2016 AEST (ABN Newswire) - Emmerson Resources Limited (

ASX:ERM
) (

OTCMKTS:EMMRF
) ("Emmerson") is pleased to announce further assays from the 6,500m drilling campaign at their Edna Beryl project in the Northern Territory of Australia (see Figure 1, 2 and table 1 in the link below). Both diamond and RC drilling has now been completed at Edna Beryl and weather permitting, the RC rig will move to the Retsina prospect.
- Second batch of results from Campaign 3 at Edna Beryl returns intersections:
-- 5m at 83.6g/t gold and 3.1g/t silver from 89m(GRED42A) including;
--- 3m at 127g/t gold, 5.0g/t silver from 89m
--- 2m at 123g/t gold, 5.0g/t silver from 90m
--- 1m at 337g/t gold, 8.86g/t silver from 91m
-- 4.3m at 24.6g/t gold and 3g/t silver from 249m (EBWDD031) including;
--- 2m at 51.7g/t gold, 5.25g/t silver from 249m
--- 1m at 102g/t gold, 10.1g/t silver from 250m
-- 2m at 13.6/t gold and 2.09 g/t Ag from 73m (EBWRC034) including;
--- 1m at 23.4g/t gold and 3.22g/t Ag from 74m
- Further results from Edna Beryl expected in mid-December
- Drilling to commence on the Retsina prospect shortly
- All exploration is fully funded by the Farm-in and Joint Venture with Evolution Mining
The RC results reported are 1m samples and the DDH results are 1/2 NQ diamond core samples, which support the previous gold intersections from Campaign's 1, 2 and 3 at Edna Beryl (ASX 31 October 2016) (refer the link below).
Drill holes GRED42A and EBWRC034 are development drilling ahead of mining at Edna Beryl and where both the sinking of the haulage and ventilation shafts continues. First ore is anticipated in early 2017. These bonanza high grade gold intersections confirm the very positive outlook for not only the tribute mining at Edna Beryl and future risk-free cash for Emmerson, but also auger well for the discovery of similar supergene gold within the broader Edna Beryl project.
Diamond drill hole EBWDD031 confirms the continuation of high grade gold at depth with the intersection of free gold in Ironstone 1 (formerly called EB Deeps). This 6m of brecciated ironstone contains free disseminated gold that occurs with hematite, chlorite and locally minor pyrite-chalcopyrite. Assay results of 4.3m at 24.6g/t gold, include outstanding intercepts of 2m at 51.7g/t gold and 1m at 102g/t gold - attesting to the high grade nature of the primary gold mineralisation at Edna Beryl.
Managing Director of Emmerson Resources Rob Bills commented: "These recent intersections again demonstrate the high grade nature of both the supergene and primary gold at Edna Beryl and potential for the discovery of further new ironstones. Particularly as the drill density in comparison to some of the historic mines such as Nobles Nob is still very low - in fact reconstructing the discovery history at Nobles Nob (the highest grade gold mine in Australia at that time) indicates that fan drilling from the underground development was instrumental in not only defining the resource but also in providing better statistical representation of these incredibly high grade, supergene ore surfaces.....something that we could contemplate once the Edna Beryl small mine development is completed."
The drilling campaigns at Edna Beryl continue to build on our geological and structural understanding, where numerous shallow, sub-parallel ironstones are bounded by steeply dipping shear zones (Ironstones 2, 3 & 4). The most recent drilling has indicated great potential for some of these ironstones to persist at depth but further drilling will be required to test and define the extent of mineralisation, particularly as EBWRC041 - 8m at 157g/t gold (ASX 31 October 2016) was the first indication of bonanza gold within ironstone 3.
The high grade gold mineralisation at Edna Beryl is very typical of the Tennant Creek Mineral Field however this style of predominantly hematite associated gold has gone virtually undetected by previous explorers. This is Emmerson's third discovery of this style and opens up the entire field to a new generation of deposits that are hosted by non to weakly magnetic hematite ironstones.
The approaching Northern Territory wet season provides an opportunity to compile and review the extensive data collected from these drill programs, including downhole televiewer logs of structure, magnetic susceptibility, density and natural gamma logs -which in conjunction with the diamond drill holes will allow refinement of our 3D geological and mineralisation model, ahead of the next round of drilling in early 2017.
The last prospect for drill testing in this campaign is Retsina, which occurs in an analogous structural setting to Edna Beryl (see figure 1 in the link below). Of interest at Retsina is the presence of brecciated hematite ironstone at surface which returned a "near ore" geochemical signature - whilst it is early days in terms of testing the efficacy of this proprietary geochemical discriminant tool, the data so far indicates the possibility of distinguishing barren from gold fertile hematite ironstones. If successful, this technique will greatly increase our success rate in discovering this new generation of hematite hosted gold deposits.
About Tennant Creek and Emmerson Resources
The Tennant Creek Mineral Field (TCMF) is one of Australia's highest grade gold and copper fields producing over 5.5 Mozs of gold and 470,000 tonnes of copper from a variety of deposits including Gecko, Orlando, Warrego, White Devil, Chariot and Golden Forty, all of which are within Emmerson Resources (

ASX:ERM
) exploration and joint venture portfolio. These deposits are considered to be highly valuable exploration targets and, utilising modern exploration techniques, Emmerson has been successful in discovering copper and gold mineralisation at Goanna and Monitor in late 2011, the first discoveries in the TCMF for over a decade. To date, Emmerson has only covered 5.5% of the total tenement package (in area) with these innovative exploration techniques and is confident that, with further exploration, more such discoveries will be made.
Emmerson holds 2,500km2 of ground in the TCMF, owns the only gold mill in the region and holds a substantial geological database plus extensive infrastructure and equipment. Emmerson has consolidated 95% of the highly prospective TCMF where only 8% of the historical drilling has penetrated below 150m.
Emmerson is led by a board and management group of experienced Australian mining executives including former MIM and WMC mining executive Andrew McIlwain as non-executive chairman, and former senior BHP Billiton and WMC executive Rob Bills as Managing Director and CEO.
Pursuant to the Farm-in agreement entered into with Evolution Mining Limited (Evolution) on 11 June 2014, Evolution is continuing to sole fund exploration expenditure of $15 million over three years to earn a 65% interest (Stage 1 Farm-in) in Emmerson's tenement holdings in the TCMF. An option to spend a further $10 million minimum, sole funded by Evolution over two years following the Stage 1 Farm-in, would enable Evolution to earn an additional 10% (Stage 2 Farm-in) of the tenement holdings. Emmerson is acting as manager during the Stage 1 Farm-in and is receiving a management fee during this period. Exploration expenditure attributable to the Stage 1 Farm-in to date is approximately $11 million.
About Evolution Mining
Evolution Mining is a leading, growth-focussed Australian gold miner. Evolution operates six wholly-owned mines - Cowal in New South Wales; Mt Carlton, Mt Rawdon, and Cracow, in Queensland; and Mungari and Edna May in Western Australia. In addition Evolution holds an economic interest in Ernest Henry, in Queensland, that will deliver 100% of future gold and 30% of future copper and silver produced from an agreed life of mine area. Outside of the life of mine area Evolution will have a 49% interest in future copper, gold and silver production from Ernest Henry.
In FY16 Evolution produced 803,476 ounces of gold at an AISC of A$1,014 per ounce generating a net mine cash flow of A$428.2 million.
Evolution is forecasting Group gold production in FY17 of 800,000 - 860,000 ounces at an AISC of A$900 - A$960 per ounce.
About Edna Beryl Mineralisation
Edna Beryl was discovered by prospectors in 1935 and mined underground in the 1940s and 1950s to a maximum depth of approximately 50 metres. Production up until 1952 was reportedly 2,700t of ore at an exceptional grade of 53g/t gold.
More recent exploration between 1996 and 2000 by Giants Reef Mining outlined additional high-grade gold mineralisation below the historic workings of the Edna Beryl East Mine and resulted in a resource estimate being reported in 1998 by independent consultants in accordance with the Australasian Code for Reporting of Identified Mineral Resources and Ore Reserves (JORC:1998). While this estimate does not meet the minimum reporting requirements for a Mineral Resource under the current 2012 JORC Code, Emmerson has decided to monetise this mineralisation via a "small mines" Tribute Agreement with the Edna Beryl Mining company. The Tribute Agreement is constrained to a tight 3D envelope around the mineralisation at the Edna Beryl East Mine (orange and purple colours in Figure 2 in the link below). The Tribute Agreement also contemplates further underground exploration and drilling, however any mineralisation outside of this 3D envelope remains 100% Emmerson.
To view tables and figures, please visit:
http://abnnewswire.net/lnk/Y6YT1PF2
About Emmerson Resources Limited

Emmerson Resources Limited (ASX:ERM) (FRA:42E) is an ASX listed gold resource company that recently (July, 2014) secured a landmark Joint Venture agreement with Evolution Mining (ASX:EVN).
Has an aggressive exploration program and dominant position in the world class Tennant Creek Mineral Field.
Is applying new exploration concepts and technologies to unlock the next generation of gold and copper deposits.
Owns the only carbon-in-pulp gold plant in the region.
Has an experienced Board and Management team.
Investor Enquiries:
Mr Rob Bills
Managing Director & Chief Executive Officer
Tel: +61-8-9381-7838
www.emmersonresources.com.au
Related CompaniesEmmerson Resources Limited