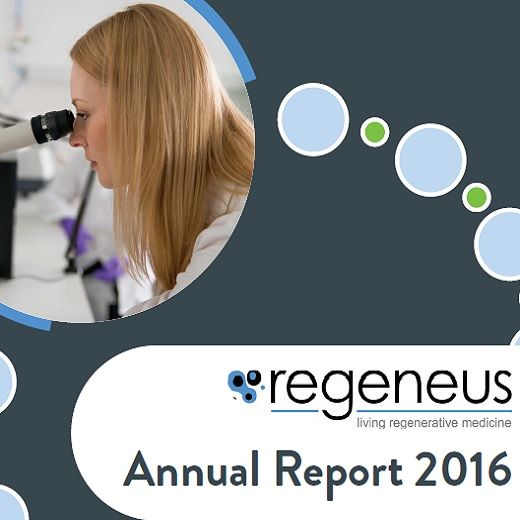 Appendix 4E and Annual Report 2016
Sydney, Aug 24, 2016 AEST (ABN Newswire) - Regeneus Ltd (

ASX:RGS
) is an ASX-listed clinical-stage regenerative medicine company using stem cell and immuno-oncology technologies to develop a portfolio of cell-based therapies to address significant unmet medical needs in the human and animal health markets with a focus on osteoarthritis and other musculoskeletal disorders, oncology and dermatology diseases.
The company is focused on unlocking value in its clinical stage human and animal pipeline products through generating positive clinical data, technology development and partnering.
Operating and financial review
Review of operations
During the year, the company achieved significant clinical development, R&D and commercial milestones that help position the company for future growth and development including:
Progress on first-in-human clinical trials
- Progenza STEP trial - allogeneic stem cells for human osteoarthritis
-- Commenced and completed STEP trial enrolment
-- Positive safety review for both dose cohorts
- RGSH4K ACTIVATE trial - autologous cancer vaccine
-- Established tumour bank
-- Patients safely dosed in all 3 dose cohorts
Commencement of clinical trials for animal health
- CryoShot pre-pivotal trial - allogeneic off-the-shelf stem cells for canine osteoarthritis
-- Commenced enrolment for trial at University of Pennsylvania - more than 30% recruited
- Kvax trials - autologous canine cancer vaccine
-- Completed osteosarcoma trial with VCA Hospitals Inc. in USA
-- Commenced enrolment of lymphoma trial at Small Animal Specialist Hospital in Sydney
Partnering and technology development
- Entered into agreement with top animal health pharma to partner development and commercialisation of CryoShot for canine osteoarthritis
- Advanced licensing discussions for manufacturing and clinical development of Progenza in Japan
- Exclusive licence for next generation cell identification and selection technology for high potency secreting stem cells developed at Macquarie University node of Centre for Nanoscale Biophotonics
- Secured ARC linkage grant funding for collaborative research with Macquarie University and University of Adelaide into treating chronic pain with stem cells
- Collaboration with CSIRO on manufacture scale-up technologies for Progenza and Secretions
- Improvements to cell growth media to enhance cell yield for Progenza and Secretions
- Optimised Secretions formulation
Key patents granted
- Patent granted in Australia covering Progenza technology - allogeneic stem cells and secretions for the treatment of osteoarthritis and other inflammatory conditions in humans and animals
- Patent granted in Australia covering cancer vaccine technology for the treatment of cancers in humans (RGSH4K) and animals (Kvax)
A more detailed review of operational highlights is set out in the Report from the Chairman and CEO.
Financial review
Operating results
The Group's loss for the year, after income tax, at $3.6 million was significantly better than the prior year of $6.6 million. The loss includes the R&D tax incentive of $2.7 million (FY15 $3.4 million).
The improvement in the results reflects the shift in strategic focus to clinical development of the Group's key programs rather than early commercialisation activities for HiQCell.
The results were better than expectations with 'cash burn' being maintained below the $1.7 million quarterly target throughout the entire year. The tighter expenditure controls had minimal impact on the delivery of the clinical and research strategic imperatives.
Revenue and margin
Licence fee income
Licence fee income increased by almost 35% to $1.2 million. The ongoing fees for the use of Regeneus technology in research and early commercialisation opportunities remain an important source of revenue and highlight the interest from key R&D partners and the depth of the relationships. Additionally, during the year, the group received a licence option fee for CryoShot from a top 5 animal pharmaceutical company.
Income from sale of goods
The revenue from the sale of goods declined by 44% to $0.52 million. This reflects the move away from early stage commercial activities for HiQCell and field trial activities for CryoShot to a focus on targeted clinical research programs in Progenza, CryoShot, RGSH4K, Kvax and Secretions.
Gross profit increased in the year to $1.59 million up from $1.15 million, an increase of 38%. This increase is due to the higher margin licence arrangements and also driven by the reduction in HiQCell activities and CryoShot field trial expenses.
Expenditure
Research and development expenses
Research and development activities include staff and other costs associated with product research, preliminary manufacture and the conduct of clinical trials for the company's products for humans and animals. Expenditure for the year was $4.3 million, a slight decline on FY15 $4.9 million and that was more reflective of the costs of the current clinical trials being lower than the prior year when the manufacture of Progenza for the Phase 1 trial was incurring significant internal and external costs.
In line with the Group's policy and to comply with the accounting standards, all costs associated with research and development are fully expensed in the period in which they are incurred. The Directors do not consider the Group can demonstrate all the requirements of the accounting standards to capitalise development expenditure.
Selling expenses
In FY15, there was a planned reduction in commercialisation activities of HiQCell and the business focus was one of undertaking clinical trials. There were significant marketing costs associated with the commercialisation activities of prior years and they have now declined materially. Selling and marketing expenses of $375k were 78% less than the prior year and this is expected to be consistent in FY17.
Occupancy costs
Occupancy costs at $473k were 38% below prior year expenditure due to the consolidation and reduction of leased premises associated with in-clinic manufacturing of HiQCell.
The costs incurred are now predominantly associated with leasing the corporate head offi ce at Pymble and the utility costs of these premises.
Corporate expenses
The reduction of corporate expenses was in excess of 28% to $2.7 million from the previous year (FY15 $3.8 million) This is a key benefit of the strategic changes taken throughout FY15.
Operating activities - cash used in operating activities was significantly reduced from the prior year and excluding the benefit of the R&D incentive, the cash outflow from operations was $5.7 million compared to FY15 $9.7 million. While 2015 included one off costs as part of the implementation of the strategic review they were less than $1.3 million in cash. The cash benefits of the strategic review contributed the majority of the reduction in the cash outflow.
Investing activities - the underlying cash used in investing activities is similar year on year with the difference represented by in excess of $0.4 million of deposits maturing that secured the premises lease fi tout payments.
Financing activities - 2015 cash provided by investing activities was a capital raising.
Overall the quarterly 'operational cash burn' in 2016 of $1.48 million per quarter is a significant improvement over 2015 $2.35 million per quarter.
Significant changes in state of affairs
There were no significant changes in the state of affairs of the Group during the reporting period.
Changes in accounting policy
There were no changes in accounting policy during the reporting period.
Events subsequent to the reporting period
In the period since 30 June 2016 to the signing of the financial report, a material loan facility has been secured. The details of this arrangement are as follows:
On July 1 2016, the company entered into an R&D funding arrangement with Sherman Group Pty Ltd, a related party. The facility forward funds, via a loan, the Federal Government's research and development tax incentive for FY16. The loan is secured over the tax incentive receipt and as a first ranking charge over the Group's property. The facility allows the company to draw down the lower of $2.0 million or 80% of the anticipated claim. At the time of implementing the facility, the R&D incentive was estimated at $2.5 million. The claim has now been lodged at $2.73 million. At the date of this report, $750k of the facility has been drawn down and depending upon the timing of the tax incentive, another $750k is anticipated as being drawn down. Full repayment of the loan is anticipated to be completed by the end of September.
Apart from the above, there are no other matters or circumstances that have arisen since the end of the year that have significantly affected or may significantly affect either the entity's operations in future financial years, the results of those operations in future financial years or the entity's state of affairs in future financial years.
Likely developments, business strategies and prospects
FY17 and FY18 will provide critical foundations for the long term success of Regeneus. The following activities and business initiatives will be core elements of the strategic deliverables required for that success:
- Secure manufacturing and commercial partner for Progenza technology in Japan - Q1 FY17
- Advance clinical partnering discussions for Progenza in Japan and other territories
- Commence donor procurement in preparation for Progenza manufacture for Phase 2 trial in Japan - Q1 FY17
- Commence ARC linkage project on stem cells for chronic pain - Q2 FY17
- Initiate preclinical and clinical trials for secretions technology - H1 FY17
- Complete recruitment and report on ACTIVATE cancer vaccine trial - H2 FY17
- Report on Progenza osteoarthritis STEP trial - H2 FY17
- Report on CryoShot canine pre-pivotal trial - H2 FY17
To view the full Annual Report, please visit:
http://abnnewswire.net/lnk/8ULM740O
About Regeneus Ltd

Regeneus Ltd (ASX:RGS) is a Sydney-based clinical-stage regenerative medicine company using stem cell and immuno-oncology technologies to develop a portfolio of innovative cell-based therapies to address significant unmet medical needs in the human and animal health markets with a focus on osteoarthritis and other musculoskeletal disorders, oncology and dermatology.
Sandra McIntosh
Company Secretary and Investor Relations
T: +61-2-9499-8010
E: investors@regeneus.com.au
W: www.regeneus.com.au
Related CompaniesRegeneus Ltd