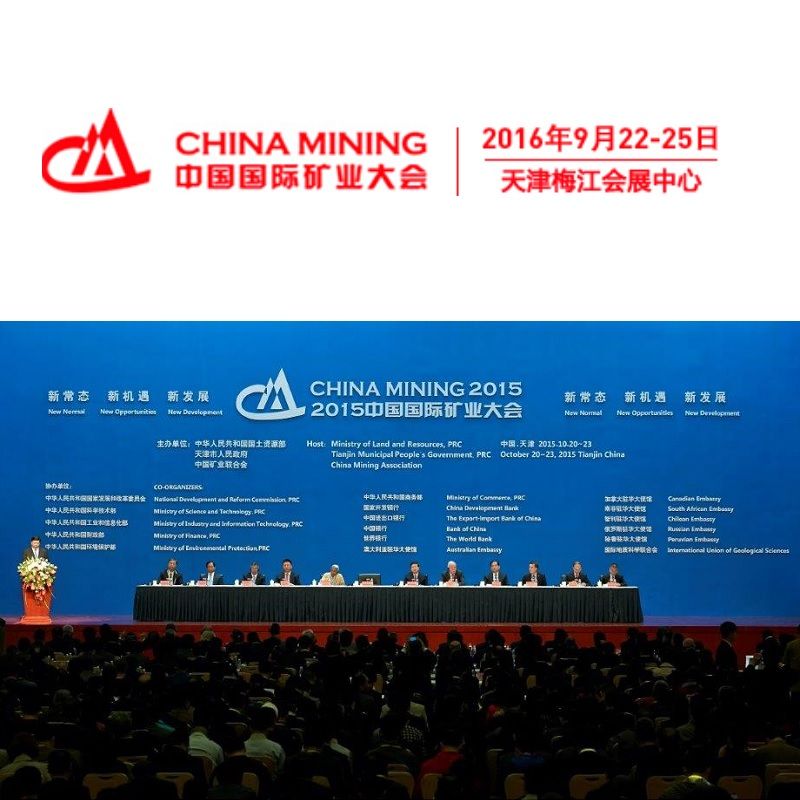 Tianjin, Aug 10, 2016 AEST (ABN Newswire) - The final early bird discount for the 18th annual CHINA MINING Congress & Expo 2016, expires at midnight on Saturday August 20th, 2016. To join the Asia biggest Mining Conference and Expo, be sure to register by Sunday to avoid paying the full delegate fee.
With the theme of "From Novel Concepts, To Innovative Solutions", CHINA MINING Congress & Expo 2016 will be held at Meijiang Convention and Exhibition Center in Tianjin on September 22nd -25th, 2016. The event hosted by the Ministry of Land & Resources, the Tianjin Municipal Government and China Mining Association. It is expected that the CHINA MINING 2016 will be held with the number over 9,000 delegates from 60 countries & regions and of 38,000 sqm exhibition areas.
As a significate aspect, CHINA MINING 2016 will provide an excellent platform - Investor Matchmaking Services to connects the international / local mining and resources industry with Chinese investors.
CHINA MINING Congress & Expo consists of three parts - conferences, exhibition and coherent featured events. With 17-year development, CHINA MINING has been included among the world's top mining events. It covers the whole value chain, including geological survey, exploration & development, mining rights trading, mining investment and financing, smelting and processing, technique and equipment, mining services, etc..
The highlights of CHINA MINING 2016:
- Country Investment forums: Major mining counties will presenting mining investment policies and opportunities to global mining investors.
- Investor Exchange Matchmaking: An excellent platform for the successful connection between Chinese mining investors with global mining projects. The mining project sellers and buyers can enjoy face-to-face communicate at this area.
- China Mining Equipment and Technology forum: This forum will focus on the mining development, dressing and metallurgy technology solution, trends and innovations.
- Mining Executives Dinner: Build the platform for mine owners and service providers, create connection wealth.
- One Belt One Road sessions: To explain the relevant policies, discuss the opportunities and challenges for mining industry;
CHINA MINING 2016 Major sponsors now include:
- China Nonferrous Metal Mining Group;
- China Metallurgical Geology Bureau;
- China Minmetals;
- Aluminum Corporation of China (

SHA:601600
) (

HKG:2600
) (

NYSE:ACH
);
- China National Gold Group Corporation;
- BOC International (

HKG:2388
);
- Shandong Gold (

SHA:600547
);
- ZRHL Investment;
- Datong Coal Mine Group;
- Tianjin North China Geological Exploration Bureau;
- Zijin Mining Group (

SHA:601899
) (

HKG:2899
) (

OTCMKTS:ZIJMF
);
- Shandong Zhaojin Group;
- Bank of Tianjin (

HKG:1578
);
- China Railway 19 Bureau Group Mining Investment Co.,Ltd.;
- Eldorado Gold (

TSE:ELD
) (

NYSE:EGO
);
- RBC Capital Markets;
- Beijing Mining Exchange;
- Tianjin Mining Exchange;
- Chengtun Mining (

SHA:600711
);
- Standard Bank (JSE:SBK);
CHINA MINING Congress & Expo provides unique business opportunities for mining exploration companies and all-related service providers. As the enhanced center of global mining communities with capital, technology, information and services, CHINA MINING 2016 welcomes you!
Early bird rate expires at August 20th. Register now online at:
http://www.chinamining-expo.org
Or email info@chinamining-expo.org to enjoy the great benefits.
Looking forward to meeting you at CHINA MINING 2016.
About China Mining

CHINA MINING Conference and Exhibition - one of the world's largest mineral investment, cooperation and trading platforms - covers the whole value chain, including geological surveying, exploration development, mining rights trading, mining investment & financing, smelting & processing, technique & equipment, mining services and many more. CHINA MINING plays a critical role in creating more communication and co-operation opportunities for domestic and international industry communities.

China Mining
Tel: +86-10-6446-5066
Fax: +86-10-6446-6368
Email: info@chinamining
Related CompaniesZijin Mining Group Co Ltd







Standard Bank Group Ltd
Shandong Gold Mining Company Limited



Eldorado Gold Corporation









China Mining








Chengtun Mining Group Co Ltd
BOC International Holdings Limited
Bank of Tianjin Co Ltd
Aluminum Corporation of China Limited(CHALCO)