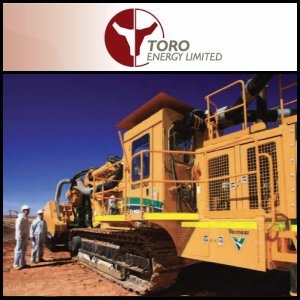 Quarterly Activities and Cashflow Report
Perth, April 27, 2012 AEST (ABN Newswire) - Toro Energy Limited (

ASX:TOE
) is pleased to provide its Quarterly Activity Report for the quarter ended 31 March 2012.
HIGHLIGHTS:
CORPORATE
- Toro completed a Share Purchase Plan raising $5.3 million.
- The Mt Woods Tenement Access Agreement was terminated and Toro received the cash consideration of $3.75 million.
- Toro agreed to cancel its uranium rights over certain Gawler Craton tenements held by Minotaur Exploration Limited for a cash consideration of $0.5 million.
- A farm-in JV with TNG Limited was implemented for non-uranium minerals over a group of tenements in the Mount Peake area of Northern Territory.
- Cash at end of the quarter was $16.1 million.
GLOBAL URANIUM MARKET
- The spot price for uranium at the end of the March quarter was US$51.75/lb U3O8 with the long term price at US$60/lb U3O8.
- Prices continued to be impacted by short-term over supply of uranium from the temporary closure of nuclear plants in Japan. However, the re-start of some nuclear plants is imminent.
WILUNA PROJECT DEVELOPMENT
- The assessment process for the Wiluna Project Environmental Review and Management Programme (ERMP) continues through its final phase with the West Australian and Federal Governments. Toro anticipates final Government decisions in mid 2012.
- The Project configuration has been agreed with Traditional Owners at Wiluna. Negotiations have now commenced on a mining agreement.
- Variability testwork with different ore types was completed during the quarter which indicated consistently high uranium extraction rates.
- Refining testwork was also completed. This produced 1 kg of UOC for customer evaluation and intermediate refining products for filtration testwork and equipment sizing.
- Bateman Australia commenced a definitive feasibility study for the Wiluna uranium project, based on the outcomes of the Pilot plant and the proven flowsheet and design criteria.
- A resource upgrade of the Wiluna regional resource base was completed based on infill drilling and improved bulk density analysis. The total Centipede resource is 14.4 Mlbs contained U3O8, which is an increase of 17% contained metal. The total Wiluna regional resource is now 53.6 Mlbs contained U3O8, which is an increase of 7% contained metal.
EXPLORATION
- Early extraction tests on the Theseus Project indicate very quick extractions of greater than 95% with very low acid consumption.
- Drilling to recommence at the Theseus Project in the first week of May.
To view the complete Toro Energy Quarterly Report, please refer to the following link below:
http://media.abnnewswire.net/media/en/docs/ASX-TOE-187836.pdf
About Toro Energy Limited
Toro Energy is a modern Australian uranium company with progressive project development, acquisition and growth. The company is based in Adelaide, South Australia with a project office in Perth, Western Australia.
Toro's flagship and wholly-owned Wiluna uranium project (includes existing mining lease) is 30 kilometres southeast of Wiluna in Central Western Australia.
Wiluna contains two shallow calcrete deposits, Lake Way and Centipede, with prefeasibility and optimisation studies completed and a definitive feasibility study underway. Toro has advanced the Approvals process with an anticipated date of mid-2012, construction through 2013 and first uranium sales in 2014.
Toro has a new uranium project at Theseus in Western Australia, and owns uranium assets in Northern Territory, South Australia and in Namibia, Africa.

Toro Energy Limited
T: +61-8-8132-5600
F: +61-8-8362-6655
WWW: www.toroenergy.com.au

Related CompaniesToro Energy Limited