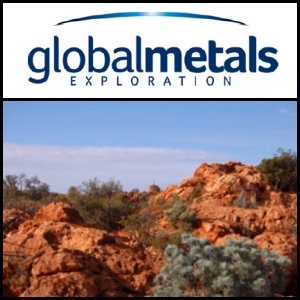 New Gold Anomalies Discovered From 2nd Phase BLEG Program on Jutson Rocks project, W.A
Sydney, April 12, 2012 AEST (ABN Newswire) - Global Metals Exploration NL (

ASX:GXN
) is pleased to announce the results of its second phase of Bulk Leach Extractable Gold ("BLEG") soil geochemical programme on the Company's Jutson Rocks project in the Eastern Goldfields region of Western Australia.
The Company is very encouraged by the results of the second phase of BLEG sampling and by the size and tenor of the gold anomalies identified.
This second phase of sampling follows the Company's highly successful first phase of BLEG sampling. The first phase of sampling covered an area of approximately 17km2 and generated a number of strong gold anomalies which were subsequently sampled by auger drilling.
As previously reported, the auger drilling outlined a number of strong, cohesive gold anomalies which have recently also been tested by Rotary Air Blast ("RAB") drilling. The results of this drilling are being tabulated at the time of this release and the Company looks forward to updating the market on the RAB drilling results in the near future.
The Company's BLEG sampling programme is targeted at a zone of structural complexity which traverses the length of the Jutson Rocks Greenstone Belt ("JRGB"). Global Metals' compilation and analysis of historical data indicated that a zone approximately 35km long and 5-8km wide, coincident with this more structurally complex zone, showed many untested gold anomalies generated from historic soils, auger, rock and vacuum drilling programmes. A number of old gold workings including the high-grade Chapman's Reward Gold Mine are also located within this zone.
The second phase of BLEG sampling involved the collection of 152 samples on a 500 x 500m grid over an area of 25km2. Generally the second phase has returned higher results than the first phase with maximum values of 21ppb Au and 37ppb Au, as compared to a maximum value of 19ppb in the first phase.
The results are seen as particularly encouraging as the anomalies defined from the data are in areas of transported cover, distinct and distant from areas of outcrop where higher gold numbers may reasonably be expected.
Four strong, large and continuous anomalies have been identified from the survey as shown in figure 3.
These include two 5 point and two 2 point anomalies and a single point anomaly. These anomalies occupy areas of approximately 2kmx500m, 1.5kmx1km, 1.5km x 500m and 1kmx500m respectively. The next stage is to more accurately define the gold anomalies for testing by RAB drilling using auger drilling, similar to the programme adopted for the first phase of BLEG sampling.
The Company is increasingly confident in its aggressive gold exploration programme in the under-explored JRGB.
To view the full Global Metals Exploration including Figures, please refer to the following link below:
http://media.abnnewswire.net/media/en/docs/ASX-GXN-585363.pdf
About Zinc of Ireland NL
Zinc of Ireland NL (ASX:ZMI), formerly Global Metals Exploration NL, is a mineral exploration company. The Company's principal activities include mineral exploration and project evaluation. The Company's projects include Kildare Project, which is located in County Kildare, approximately 40 kilometers south-west of Dublin; Ballinasloe Project, which is located in County Galway, over 50 kilometers east of Galway/Carnmore on the Glentaun-Cloonark Regional Structure; Navan Project, which is located approximately 15 kilometers south-east of the Navan Tara mine; Sligo Project, which is located over four kilometers north of Sligo in the western province of Connacht; Monaghan Project, which is located approximately 20 kilometers south-east of Monaghan in the eastern portion of the Longford-Down Inlier; Cork Project, which is located over 15 kilometers south-west of Cork, and Galway Project, which is located approximately 25 kilometers north-west of Galway in the Neoproterozoic Dalradian Supergroup.

Global Metals Exploration NL
T: +61-2-9225-4000
F: +61-2-9235-3889
WWW: www.globalnickel.com.au

Related CompaniesZinc of Ireland NL