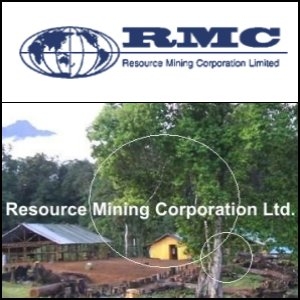 Pro-Rata Renounceable Rights Isssue - Under Subscriptions
Perth, Mar 13, 2012 AEST (ABN Newswire) - The Directors of the Resource Mining Corporation Limited (

ASX:RMI
) are pleased to advise that the Renounceable Rights Issue closed on 7 March 2012 with Eligible Shareholders taking up 28% of the Rights Issue.
The Company wishes to advise that Eligible Shareholders subscribed for 248,834,351 New Shares at an issue price of $0.0028 (0.28 cents) each raising $696,736 leaving an underwritten balance of 655,950,736 New Shares and 163,987,684 attaching New Options ($1,836,662) to be placed by Sinom (Hong Kong) Limited as Underwriter.
It is anticipated that the allotment and issue of New Shares and attaching New Options and the dispatch of holding statements will take place on Thursday 15 March 2012.
The Directors wish to thank the Eligible Shareholders who participated in the Rights Issue.
About Resource Mining Corporation Limited
Resource Mining Corporation Limited (ASX:RMI) is a Perth-based specialist mineral exploration company creating wealth from mineral commodities using innovative technical, marketing and financial skills as it explores for economic metal deposits in Australia and Papua New Guinea. The company has a strong commitment to sustainable development and aims to realize world class mineral opportunities through science-based innovation, expert environmental analysis and best practice community stakeholder engagement.

Related CompaniesResource Mining Corporation Limited