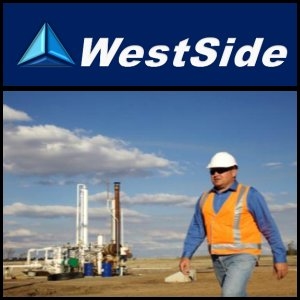 Identity of Potential Acquirer
Sydney, Mar 2, 2012 AEST (ABN Newswire) - WestSide Corporation Limited (

ASX:WCL
) has been monitoring media speculation and commentary regarding the identity of the unrelated party ("Potential Acquirer") referred to in the Company's ASX announcement on 13 February 2012: Notification of Approach.
The Board has subsequently determined that based on recent media articles the identity of the Potential Acquirer can no longer be considered confidential between WestSide, the unrelated party concerned and their respective advisers. Accordingly, WestSide now advises that the indicative, conditional, non-binding and confidential proposal to acquire all of the shares in WestSide for cash consideration of $0.65 per WestSide share ("Indicative Proposal") was received from LNG Limited (

ASX:LNG
). WestSide further advises that LNG Limited's Indicative Proposal involved financial backing from reputable international parties.
WestSide has entered into a confidentiality agreement with LNG Limited and granted due diligence access on a non-exclusive basis.
LNG Limited has only recently begun its due diligence. It should be noted that the due diligence process may take some time and there can be no certainty that a binding offer will be made once LNG Limited has completed its due diligence.
The Board of WestSide is committed to maximising value for shareholders and, if it determines that doing so would be in the best interests of shareholders, the Board may grant other parties due diligence access.
The Board of WestSide continues to assess the Indicative Proposal alongside other strategic options available to the Company. The Board has not formed a view, at this stage, as to the merits of the Indicative Proposal and continues to recommend that shareholders take no action in relation to the Indicative Proposal.
About Liquefied Natural Gas Ltd

Liquefied Natural Gas Limited (

ASX:LNG) (

OTCMKTS:LNGLY) (LNGL) is an ASX listed company whose portfolio consists of 100% ownership of the following companies:
- Magnolia LNG, LLC (Magnolia LNG), a US-based subsidiary, which is developing an eight mtpa or greater LNG export terminal, in the Port of Lake Charles, Louisiana, USA;
- Bear Head LNG Corporation Inc. (Bear Head LNG), a Canadian based subsidiary, which is developing an 8 mtpa or greater LNG export terminal in Richmond County, Nova Scotia, Canada with potential for further expansion;
- Bear Paw Pipeline Corporation Inc. (Bear Paw), proposing to construct and operate a 62.5 km gas pipeline lateral to connect gas supply to Bear Head LNG; and
- LNG Technology Pty Ltd, a subsidiary which owns and develops the Company's OSMR(R) LNG liquefaction process, a mid-scale LNG business model that plans to deliver lower capital and operating costs, faster construction, and improved efficiency, relative to larger traditional LNG projects.
WestSide Corporation Limited
T: +61-7-3020-0900
F: +61-7-3020-0999
WWW: www.westsidecorporation.com

Related CompaniesWestSide Corporation Limited






Liquefied Natural Gas Ltd