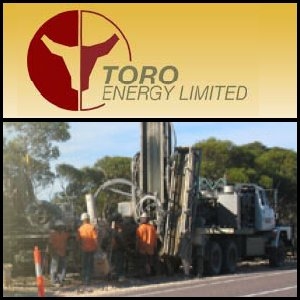 Uranium Project in WA Increases Resource by 17%
Sydney, Feb 27, 2012 AEST (ABN Newswire) - Toro Energy Limited (

ASX:TOE
) announces a further upgrade to its total Wiluna regional resource base in Western Australia resulting from infill drilling and improved bulk density analysis of the Centipede deposit.
The total Centipede Resource (Measured, Indicated and Inferred) is 14.4 Mlbs contained U3O8 (12.9 Mt @ 504ppm at 200ppm U3O8 cut-off), which is an increase of 17% contained metal.
The average grade for the Measured Resource at Centipede - targeted for first mining at Wiluna - increased 12% from 492 ppm U3O8 to 552 ppm U3O8. The contained U3O8 in Measured Resource also increased to 3.75 Mlbs, providing increased confidence in developing the mining reserve.
The total Wiluna regional resource base is now 53.6 Mlbs contained U3O8 (55.1 Mt @ 440 ppm at 200 ppm U3O8 cut-off), which is an increase of 7% contained metal.
Toro's Managing Director, Mr Greg Hall, said "the improved uranium grades and resources for the Centipede deposit significantly enhance the economic viability and the confidence in the Wiluna Project. The Wiluna Project is moving closer to being Australia's next uranium producer as it continues through the environmental assessment phase of government approvals, with a government decision anticipated in mid-2012."
The Centipede deposit, combined with the Lake Way deposit, form the basis of the Project for which Toro is seeking government approvals to commence mine construction (subject to other additional permits and Toro Board approval) from late in 2012, with commissioning production planned from late in 2013 and first uranium sales during 2014 (see Figure 1 and Table 1 in link below).
The increase in Measured Resource at the Centipede deposit will increase the amount of higher grade material available in the earlier stages of the project's operation and will defer capital expenditure on the development of Lake Way.
Technical Discussion
Infill Drilling Program
A resource infill drilling program was conducted at Centipede in October 2011. This program included a combination of aircore and sonic drilling totaling 307 boreholes for approximately 3,300 m. All boreholes were radiometrically logged. The eU3O8 grades were checked against chemical assay data derived from ICP-MS analysis of sonic drill core samples.
Bulk Density Results
The density used to report the current Mineral Resource for Centipede is based upon the mean of the composited radiometric density readings (1.80 t/m3) and confirms the bulk density values determined during the Resource Evaluation Pit at Centipede in 2010, which were derived from weight in air/weight in water measurements of grab samples.
The updated density has also been applied to uranium mineralisation at Millipede, since it is part of the same mineralised system.
The new bulk density values were not applied to the Lake Way, Dawson-Hinkler or Nowthanna deposits as they are separate deposits. There is no change to the resource estimation of these deposits as a result. Additional drilling and bulk density testing at Lake Way, Dawson Hinkler and Nowthanna is planned for 2012.
For the Full Announcement Please View:
http://media.abnnewswire.net/media/en/docs/ASX-TOE-187112.pdf
About Toro Energy Limited
Toro Energy is a modern Australian uranium company with progressive project development, acquisition and growth. The company is based in Adelaide, South Australia with a project office in Perth, Western Australia.
Toro's flagship and wholly-owned Wiluna uranium project (includes existing mining lease) is 30 kilometres southeast of Wiluna in Central Western Australia.
Wiluna contains two shallow calcrete deposits, Lake Way and Centipede, with prefeasibility and optimisation studies completed and a definitive feasibility study underway. Toro has advanced the Approvals process with an anticipated date of mid-2012, construction through 2013 and first uranium sales in 2014.
Toro has a new uranium project at Theseus in Western Australia, and owns uranium assets in Northern Territory, South Australia and in Namibia, Africa.

Toro Energy Limited
T: +61-8-8132-5600
F: +61-8-8362-6655
WWW: www.toroenergy.com.au

Related CompaniesToro Energy Limited