loading.........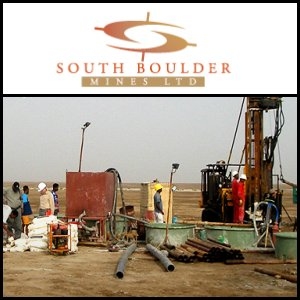 Perth, Jan 11, 2012 AEST (ABN Newswire) - South Boulder Mines Limited (

ASX:STB
) is pleased to provide an update on drilling and definitive feasibility study (DFS) activity in relation to the development of the Colluli Potash Deposit in Eritrea. The completion of a highly positive engineering scoping study (ESS) in November has allowed the Company to expedite the transition to potash production in 2016 or sooner. Recent key activities and highlights in relation to Colluli include;
- Potash assays from a further six resource extension holes were returned from holes completed in the last drill program. An updated JORC Compliant Mineral Resource Estimate (resource) is planned for completion in the March quarter;
- A program of HQ diamond drilling has recommenced (5 holes completed to date) to define further shallow potash. Continuous drilling is planned throughout the next 14 months, commencing with an initial resource extension program of 22 holes for ~ 2,000m;
- A close spaced (50 - 200m centres) PQ diamond drilling program is in the final stages of approval. Up to 70 holes will be completed in order to collect sufficient sample for definitive metallurgical testing and to assess the short range variability and localised geometry of the deposit;
- A total of 13 hydrogeological monitoring bores have been installed at Area A as part of DFS ground water and geotechnical assessment with respect to open cut mining studies;
- South Boulder Mines has commenced a global tender process for DFS engineering design and is expecting to award the tender in February 2012;
- The recently completed ESS produced a pre-tax NPV12 of USD 1.33bn with start-up capital costs of USD 0.74bn based on production of an initial 1Mt of KCl p.a. The ESS only considered ~20% utilisation of the current resource and therefore enormous upside is expected to be captured within the DFS;
- South Boulder is well funded to complete the DFS and is in the process of completing a fully underwritten 1 for 5 Entitlement Issue to raise ~ $10.7m. This will result in a strong cash position of ~$21 million in early February 2012.
South Boulder is pleased to report that significant progress towards completion of a DFS into the production of an initial 1Mt p.a. of standard KCl in 2016 or sooner has been made. All key technical activities in order to complete the DFS in 2013 are underway, or are set to commence in the near term pending approvals. Key activities currently awaiting approvals include;
- A close spaced PQ diamond drilling program (similar to a broadly spaced grade control program) is in the final design and approval stages to assess the short range variability of the deposit with respect to mining methods, assist with ongoing geological interpretation of the deposit and to collect sufficient potash samples for definitive feasibility processing test work. It is planned that the program will be undertaken over potential mining areas that correspond to the first few years of production from Area A;
- A complete Social Environment Impact Assessment (SEIA) plan has been submitted to the Eritrean Government for consideration. The plan was undertaken by Knight Piesold Consulting in conjunction with South Boulder personnel and is a comprehensive plan in accordance with the local and international guidelines. Approval of the plan is anticipated in the March quarter and a number of data collection activities are well underway to support the DFS;
- A Baseline Hydrology Program was initiated in November 2011 and included the installation of 13 hydrogeological monitoring bores at Area A. Initial assessment was made at Colluli and adjacent regional areas to plan the ongoing surface and ground water assessment programs.
In addition, commencing in January 2012 a series of strategic investor visits will be undertaken to the Colluli site with a view to assessing potential financial, off-take and development partners for the Colluli Project.
For the complete announcement including figures and tables, please view:
http://media.abnnewswire.net/media/en/docs/ASX-STB-573780.pdf
About South Boulder Mines Limited

CMSC owns exploration tenements spanning over 400km2 within the Danakil Depression in South East Eritrea.
Since 2010, 97 holes have been drilled identifying a resource containing more than one billion tonnes of potassium bearing salts suitable for the production of potash fertilisers.
South Boulder Mines Ltd is currently working on the Feasibility Study to support the development of the project.

Lorry Hughes
CEO/Managing Director

Kerry Rudd
Executive Assistant

Liam Cornelius
Executive Director

Flavio Garofalo
CFO

Dr. Chris Gilchrist
Non-Exec Director

South Boulder Mines Limited
T: +61-8-6315-1444
F: +61-8-9486-7093
http://www.southbouldermines.com.au
Related CompaniesSouth Boulder Mines Limited