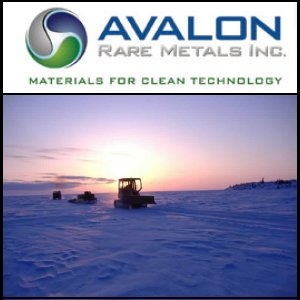 AGM Scheduled for January 26, 2012
Toronto, Dec 29, 2011 AEST (ABN Newswire) - Avalon Rare Metals Inc. (

TSE:AVL
) (

NYSE:AVL
) ("Avalon" or the "Company") is pleased to provide notice of the Company's upcoming shareholders meeting.
Annual General Meeting
The Company will hold its Annual General Meeting of Shareholders ("AGM") at 4:30 pm on Thursday, January 26, 2012, at The Toronto Board of Trade, located at 1 First Canadian Place, Toronto, Ontario. At the meeting, management will provide shareholders with an update on business activities and shareholders will be asked to approve the appointment of directors and auditors. There is no special business on the agenda.
Annual Meeting Materials
In connection with the AGM, the Company has mailed out to shareholders of record as on December 19, 2011, a copy of the Notice of Meeting, Proxy, Information Circular, 2011 Audited Consolidated Financial Statements and Management Discussion and Analysis, and President's Letter 2011. A copy of these documents may be viewed at www.sedar.com or on the Company's website at:
http://www.avalonraremetals.com/investors/financials
/
Also available on the internet is a recent video of a nine minute interview conducted by ProActive Investors' Jeremy Naylor with Avalon's CEO, Don Bubar on December 14, 2011. This can be found at:
http://youtu.be/iEByCGoJwkQ
Audited Annual Financial Statements, MD&A and AIF
The Company filed its Audited Consolidated Annual Financial Statements, Management Discussion and Analysis and Annual Information Form for the fiscal year ended August 31, 2011, on November 29, 2011. These documents may be viewed at www.sedar.com. The audit was performed by McCarney Greenwood LLP who are a registered firm with the Public Company Accounting Oversight Board in the United States, a required registration for auditors of NYSE Amex listed companies.
Shares Outstanding: 103,136,986 Cash resources: approximately $60 million.
To find out more about Avalon Rare Metals Inc., please visit our website at www.avalonraremetals.com. For questions and feedback, please e-mail the Company at ir@avalonraremetals.com or phone Don Bubar, President and CEO at 416-364-4938.
About Avalon Advanced Materials Inc

Avalon Advanced Materials Inc. (TSE:AVL) (OTCMKTS:AVLNF) (formerly Avalon Rare Metals) is a Canadian mineral development company specializing in niche market metals and minerals with growing demand in new technology. The Company has three advanced stage projects, all 100%-owned, providing investors with exposure to lithium, tin and indium, as well as rare earth elements, tantalum, niobium, and zirconium. Avalon is currently focusing on its Separation Rapids Lithium Project, Kenora, ON and its East Kemptville Tin-Indium Project, Yarmouth, NS. Social responsibility and environmental stewardship are corporate cornerstones.
Avalon Rare Metals Inc.
Communications and Investor Relations
Virginia Morgan, Director
T: +1-416-364-4938
F: +1-416-364-5162
E: ir@avalonraremetals.com
WWW: www.avalonraremetals.com

Related CompaniesAvalon Advanced Materials Inc