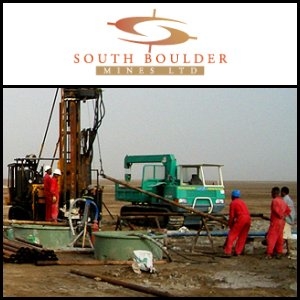 South Boulder Mines Limited (ASX:STB) Reports Positive Results from the Scoping Study for the Colluli Potash Project
Perth, Nov 23, 2011 AEST (ABN Newswire) - South Boulder Mines Limited (

ASX:STB
) is very pleased to report that Discounted Cash Flow financial modeling for the base case Stage 1 open pit mining and processing of the Colluli Potash Deposit has returned highly favourable economics.
South Boulder Mines Limited is very pleased to report that the detailed Scoping Study has confirmed the viability of the Colluli Potash Project. The study has been completed by ERCOSPLAN Ingenieurgesellschaft Geotechnik und Bergbau mbH (ERCOSPLAN) with input from a number of independent organisations and professionals under the guidance of Non-Executive Director Dr. Chris Gilchrist.
The engineering technical study (ASX release dated 26th October 2011) and the DCF financial model is considered to be suitably conservative and provides a robust platform on which to justify the investment decision to rapidly proceed through to DFS and construction with production scheduled for 2016 or sooner. Results confirm a substantial project that has considerable upside with the inclusion of staged expansion and additional SOP production plans.
An initial Stage 1 mine life has been extended to 17 years, whereby 1 million tonnes p.a. of standard MOP will be produced from an open pit mine and processing facility located at Colluli. The overall production strategy is to initially produce standard MOP from Sylvite mineralisation and to progressively transition the project to include the production of Granular MOP, standard and granular SOP and K-Mg sulphates from Carnallite, Kainite and Kieserite mineralisation. The capital cost, optimum rates of production and timing of staged expansions will be investigated as part of the DFS. It is expected that at the completion of the study, life of mine project economics will be substantially improved.
The pre-production capital expense of USD 0.74 billion for 1Mt p.a. MOP production presents a highly attractive investment case, and compares very favourably with other proposed or planned potash developments in the industry. The average pre-production capital expense for Greenfield MOP projects is greater than USD 1.0 billion per 1 million tonnes of production capacity.
The NPV of USD 1.33 billion (calculated at a 12% discount rate) and IRR of 40.6% reflect earnings before interest, tax, depreciation, and amortisation (EBITDA basis). A MOP price of USD500/tonne has been used in 2016 with the price escalating at 2% per annum in subsequent years.
Given that only a small portion of the potash contained within the current JORC Compliant Mineral Resource Estimate (~16%) is included in the current study the Company considers the mine life upside of the project to be immense and likely to be in excess of 50 years once details of SOP and K-Mg sulphate production is included.
The current resource consists of 133.70Mt @ 17.55% KCl of Measured Resources, 343.33Mt @ 17.38% KCl of Indicated Resources and 87.37Mt @ 24.96% KCl of Inferred Resources for a total of 564.40Mt @ 18.60% KCl (total contained potash of 105Mt). This includes higher grade Sylvite mineralisation of 130.39Mt @ 27.02% KCl (total contained potash of 35Mt).
A number of areas have been identified that require further assessment during the DFS that have the potential to substantially reduce pre-production capital and operating costs. Some of these areas also have the potential to increase the scale of initial Stage 1 production rates, future expansions and future timing of SOP and K-Mg sulphate production. These are;
- Further resource expansion and optimised utilisation of the current resource. (Current JORC-Compliant Exploration Target is 1.25 - 1.75 billion tonnes @ 18-20% KCl ## See disclaimer below);
- Metallurgical processing optimisation to increase Sylvite recovery above ~80%;
- Determination of more accurate characteristics of the overburden material during a trial mining exercise to be conducted in 2012;
- Optimisation of the site water balance model;
- Optimisation of the Company strategic project financing plan;
- Determination of capital costs and operating costs for SOP and K-Mg sulphate production;
- Optimising the mining and processing plan to include SOP and K-Mg sulphate production schedules;
- Development of the SOP and K-Mg sulphate market and marketing plan.
About the Nickel Joint Venture
The Duketon Nickel JV has had recent success at The Rosie and C2 Nickel sulphide prospects where drilling has defined intercepts of 5.20m @ 9.13% Ni, 1.09% Cu, 0.21% Co and 7.09g/t PGE's at Rosie and 50m @ 0.92% Ni including 37m @ 1.05% Ni at C2. The deposits are located approximately 120km NNW of Laverton, W.A in the Duketon Greenstone Belt. The deposits are approximately 2km apart and the mineralisation at both prospects is considered open in most directions. A Mining Lease was granted over the Rosie and C2 deposits on the 19th of November. A resource definition and exploration drilling program and scoping study into an open pit mine at C2 and an underground mine at Rosie is underway.
For the complete South Boulder Mines announcement including figures and tables, please refer to the following link:
http://media.abnnewswire.net/media/en/docs/ASX-STB-567930.pdf
About South Boulder Mines Limited

CMSC owns exploration tenements spanning over 400km2 within the Danakil Depression in South East Eritrea.
Since 2010, 97 holes have been drilled identifying a resource containing more than one billion tonnes of potassium bearing salts suitable for the production of potash fertilisers.
South Boulder Mines Ltd is currently working on the Feasibility Study to support the development of the project.

Lorry Hughes
CEO/Managing Director
South Boulder Mines Limited

Kerry Rudd
Share Holder Enquiries
South Boulder Mines Limited

Liam Cornelius
Executive Director
South Boulder Mines Limited

Terry Grammer
Chairman
South Boulder Mines Limited

Tel: +61-8-6315-1444
http://www.southbouldermines.com.au
Related CompaniesSouth Boulder Mines Limited