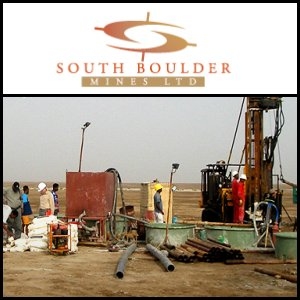 South Boulder Mines Limited (ASX:STB) Updates on Colluli Potash Project Scoping Study
Perth, Oct 26, 2011 AEST (ABN Newswire) - South Boulder Mines Limited (

ASX:STB
) is very pleased to report that engineering scoping study results have confirmed the viability of the Colluli Potash Project and the Company has committed to progress a definitive feasibility study scheduled for completion in the next 14-17 months. The study has been completed by ERCOSPLAN Ingenieurgesellschaft Geotechnik und Bergbau mbH (ERCOSPLAN) with input from a number of independent mining organisations and professionals under the guidance of Dr. Chris Gilchrist.
An eleven year initial mining and processing period was determined to represent a suitably conservative approach to the technical assessment of the project in order to ensure low risk, economic evaluation. Given that only a small portion of the potash contained within the current JORC Compliant Mineral Resource Estimate is planned to be mined as part of the current study the Company considers the mine life upside of the project to be immense and likely to be in excess of 50 years.
The current resource consists of 133.70Mt @ 17.55% KCl of Measured Resources, 343.33Mt @ 17.38% KCl of Indicated Resources and 87.37Mt @ 24.96% KCl of Inferred Resources for a total of 564.40Mt @ 18.60% KCl (total contained potash of 104.96Mt). This includes higher grade Sylvinite mineralisation of 130.39Mt @ 27.02% KCl. Sylvinite mineralisation was selected to be the focus of the engineering scoping study for a number of reasons;
- Sylvinite is located shallowest in the stratigraphic sequence;
- Processing methods are relatively simple to produce MOP;
- Open pit mining methods are simple;
- MOP will be easily consumed by the existing market;
- Start-up capex is minimised to ensure simplified project financing.
Mining will be conducted with a flexible standard fleet of 90-100 tonne dump trucks with backhoe loading. In addition the use of in-pit crushing, conveying and continuous mining will be investigated. Groundwater will be controlled by a combination of dewatering drill holes, intercept trenching, evaporation, batter toe drainage and geopolymers which are all standard mine dewatering methods.
The processing facility will be located at the Colluli site and will consist of an industry-standard milling and flotation plant. The metallurgical amenability of froth flotation has been demonstrated and early recovery results have been highly encouraging at >80% KCl which is considered to be near industry averages. Further process optimisation work is planned as part of the Definitive Feasibility Study and it is expected that the metallurgical recovery will further increase. Residue disposal from the processing facility is planned to be deposited with pit wastes at the mine site. These consist of Halite (NaCl) and sulphate minerals, the environmental impact of which will be minimal.
A small diameter pipeline from the coastal town of Mersa Fatma has been scoped to bring sea water to the processing site if insufficient volumes of groundwater are identified. Up to 120 kilolitres per hour of water will be required consisting of 75% seawater/brackish water and 25% freshwater. Brackish water is present in the ground above and in adjacent areas to the resource however it is currently thought that the volumes are smaller than requirements. A substantial brackish and fresh water exploration drilling program has commenced as part of site hydrogeological investigations and will assess ground within a 50 kms radius of the Colluli site. Water sourced from mine dewatering activities will be used to supplement the total site brackish water requirements.
Road train or truck transport to a port, storage and loading facility at the Anfile Bay Area is planned pending environmental, social impact and Government approvals. Anfile Bay contains deep water close to the coast and has sufficient options for offshore trans-shipment barges. Self-powered, self-discharging "shuttle barges" with 5,000 metric tonne capacity have been planned to access deeper water and load ships at a rate of 20,000 metric tonnes per day.
Numerous opportunities have been identified to improve the current project plan in terms of rates of production, fertilizer products and resource utilisation and these will be defined in the next 14-17 months.
Details on further exploration and feasibility results will be released as they come to hand.
For the complete South Boulder announcement including figures, please refer to the following link:
http://media.abnnewswire.net/media/en/docs/ASX-STB-563098.pdf
About South Boulder Mines Limited

CMSC owns exploration tenements spanning over 400km2 within the Danakil Depression in South East Eritrea.
Since 2010, 97 holes have been drilled identifying a resource containing more than one billion tonnes of potassium bearing salts suitable for the production of potash fertilisers.
South Boulder Mines Ltd is currently working on the Feasibility Study to support the development of the project.

Lorry Hughes
CEO/Managing Director
South Boulder Mines Limited

Kerry Rudd
Share Holder Enquiries
South Boulder Mines Limited

Liam Cornelius
Executive Director
South Boulder Mines Limited

Terry Grammer
Chairman
South Boulder Mines Limited

Tel: +61-8-6315-1444
http://www.southbouldermines.com.au
Related CompaniesSouth Boulder Mines Limited