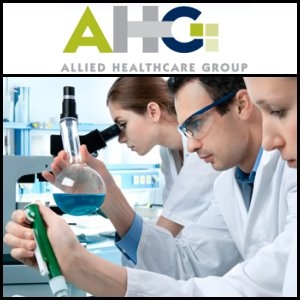 Asian Activities Report for October 11, 2011: Allied Healthcare Group (ASX:AHZ) Report Successful Pre-Clinical Testing of Herpes Simplex Virus 2 Vaccine
Sydney, Oct 11, 2011 AEST (ABN Newswire) - Allied Healthcare Group (

ASX:AHZ
) says today that its investee company Coridon Pty Ltd has successfully completed pre-clinical efficacy testing of its prototype Herpes Simplex Virus 2 vaccine with outstanding results. Having achieved this milestone, Coridon has now secured additional funding from its major investor Allied Healthcare Group and plans to commence manufacturing and undertake formal pre-clinical safety studies before testing the vaccine in a Phase I clinical study.
Universal Biosensors, Inc. (

ASX:UBI
) has commenced a new research and development project for Cilag GmbH International to determine the feasibility of an innovative blood glucose product to be used in the field of diabetes. The feasibility project is expected to take approximately 12 months for which Universal Biosensors will receive US$4.5 million against a series of milestones.
Kalgoorlie Mining Company Limited (

ASX:KMC
) reports that recent drilling of the East Lode at the Bullant gold mine has intersected a spectacular high grade gold zone of 4.6m at 26.19g/t Au, representing the best drill assay result the Company has achieved at the Bullant gold project since its acquisition in April 2011. Drilling is currently continuing and further extensional drilling is planned. The Company expects to generate rapid shareholder wealth through development, production and exploration of the Bullant Gold Project.
Midas Resources Limited (

ASX:MDS
) will commence aircore drilling on a gold target south of the Intrepid Prospect at the Company's Lake Carey Project in Western Australia. The Intrepid prospect covers an area of widespread gold anomalism situated in the northwest part of the Lake Carey project. All necessary approvals have been obtained and drilling is to commence later this week.
Related CompaniesUniversal Biosensors Inc.







Kalgoorlie Mining Company Limited





Hammer Metals Limited





Admedus Ltd