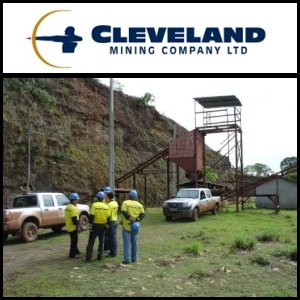 Cleveland Mining Company Limited (ASX:CDG) Announce Significant Drilling Results at O Capitão Gold Project
Sydney, July 27, 2011 AEST (ABN Newswire) - Cleveland Mining Company Limited (

ASX:CDG
) is pleased to announce the results of recent drilling at the O Capitão Gold Project targeting the Dona Maria Garimpo. The Company has discovered significant gold-bearing mineralisation located less than 10 kilometres from Cleveland's Premier Gold Project.
Drilling has delineated a 250m strike-length of multiple, stacked, mineralised zones with variable down-hole widths ranging from 0.4m to 16.50m per zone.
The geology remains open along strike, presenting further exploration potential.
ASSAY HIGHLIGHTS
- 11.00m @ 1.01 g/t Au from 51.00m to 62.00m (CGPDH00032)
- 4.40m @ 3.55 g/t Au from 91.00m to 95.40m (CGPDH00032)
- 7.57m @ 1.99 g/t Au from 79.80m to 87.37m (CGPDH00039)
- 16.50 @ 1.16 g/t Au from 46.40m to 62.90m (CGPDH00038)
- 7.57m @ 1.99 g/t Au from 79.80m to 87.37m (CGPDH00038)
DRILLING SUMMARY
The drilling program aimed to evaluate the mineralisation potential north of the Garimpo Pit and to follow-up mineralised intercepts from the previous drilling program at the Donna Maria Garimpo.
Significant gold-bearing mineralisation was intercepted in four of the six holes drilled at the Dona Maria Garimpo. The mineralisation is hosted within different lithologies from those previously identified in the O Capitão project area and occurs in three distinct horizons associated with an increase in sulphides, biotite alteration and quartz veining. The surface expression of the host lithologies has been identified.
Seven additional holes were drilled to test the continuity of the mineralisation and all holes have intersected the targeted lithology. The assay results for the additional drill holes are pending.
The program consisted of four diamond holes totalling 662.59m targeting the northern extension of the Garimpo Pit and six diamond holes totalling 742.03m targeting the Dona Maria Garimpo.
Option Agreement Exercised
Edifica Participações Ltda ("Edifica"), Cleveland Mining's Joint Venture partner in the Premier, Guarinhos and Baú projects, has exercised a purchase option for 50% of O Capitão. Edifica will pay Cleveland approximately $1 million dollars (50% of all costs incurred on the project to date with the final figure still to be determined) to exercise the option and will contribute equally to all costs going forward.
The new joint venture will provide the option to process ore from both Premier and O Capitão at the same facility should mining proceed at O Capitão.
Cleveland Mining Managing Director, David Mendelawitz, said that the new joint venture with Edifica illustrated the Brazilian company's confidence and satisfaction with Cleveland's exploration work at Premier and O Capitão.
"Since Cleveland acquired O Capitão 18 months ago, we have identified high-grade extensions of the old Garimpeiro pit, resolved a formerly disputed ownership status, and have now discovered shallow and potentially significant gold-bearing mineralisation," said Mr Mendelawitz "I am delighted that we can expand our Joint Venture with Edifica to include O Capitão. Our understanding of mining and exploration fits perfectly with their ability to source projects, to understand the local operating environment, and provide connections and local credibility within Brazil."
"To have O Capitão as part of the Premier Joint Venture, not only allows us to share the exploration and development risks, but also means that we can gain the economies of scale from a centralised plant, thus reducing the barriers to turning mineralisation at O Capitão into an economic resource."
Cleveland has begun transferring the O Capitão tenements into the Joint Venture entity. Soon after the completion of this process, the Company aims to lodge an application to transfer the exploration lease into a mining lease.
For the complete drilling results table, please refer to:
http://media.abnnewswire.net/media/en/docs/68622-ASX-CDG-550427.pdf
About Cleveland Mining Co Ltd

Cleveland Mining Company Ltd (ASX:CDG) is an Australian managed, ASX listed minerals company squarely focused on developing projects into mines. The company's management team have a track record for building successful projects from the ground up, providing Cleveland with the expertise to secure and build robust projects. Mining and production are underway at the Premier Gold Mine located in Crixas, in central Brazil. The company is also working to expand production developing the Lavra prospect, within the O Capitao Project, less than 10km away. Cleveland has a different approach to project selection with project economics driving target selection. Projects are chosen according to their likelihood of generating returns at the bottom of the economic cycle.
Related CompaniesCleveland Mining Co Ltd