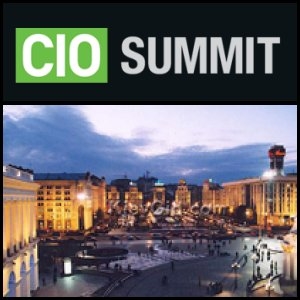 CIO Summit Russia And CIS 2011: CIOs Glimpse The Future
London, May 31, 2011 AEST (ABN Newswire) - The rise of a new generation of tech-savvy business leaders heralds the start of a new era for IT departments everywhere.
But is business-IT alignment really still the Holy Grail for CIOs? Or is technology now so deeply ingrained in the way we do business that today's IT leaders need to fundamentally reinvent their role within the organisation? Speaking at the recent CIO Summit MENA held in Dubai, Neil Dyke - Group CIO for EMEA at General Electric (

NYSE:GE
) - personally believes the time is right to re-evaluate what the future holds for the CIO.
Indeed, the future of the CIO is just one of the topics up for discussion at CIO Summit Russia & CIS 2011, which takes place from 6-8 September at the InterContinental Kiev, Ukraine. This closed-door summit, hosted by GDS International, will feature some of the leading voices in the technology management sector including Evgeny Charkin, CIO of Severstal (

LON:SVST
); Alexander Lyashenko, CIO at Naftogaz of Ukraine; and Gennady Stolyarov, CIO for DHL Russia.
Alongside consideration of the key challenges currently facing IT departments, other key topics for discussion include dealing with an increasingly mobile workforce; embracing the cloud as a means of cutting infrastructure costs and refocusing on innovation; and how to improve response times to changing market scenarios.
CIO Summit Russia & CIS 2011 is an exclusive C-level event reserved for 100 participants that includes expert workshops, facilitated roundtables, peer-to-peer networks and co-ordinated meetings.
For more information,
http://www.cisciosummit.com
About GDS International
GDS International is a leading business-to-business events company. We offer financial, healthcare, IT service management, telecoms and oil and gas summits for senior executives throughout the Asia Pacific, Africa, China, Europe, North America and Russia markets. Our value proposition is simple: we deliver real results. And we're very good at it. www.gdsinternational.com

Related CompaniesSeverstal
General Electric Company






GDS International