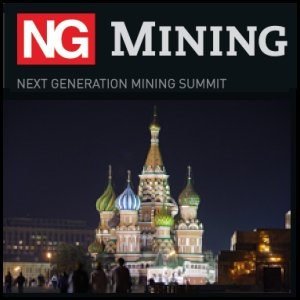 Next Generation Mining Summit CIS 2011 To Focus On IT Investment
Santiago, May 26, 2011 AEST (ABN Newswire) - The mining industry has accelerated its investment in IT as it looks to address cost-reduction and productivity issues.
Getting the most out of your IT investment is sure to be a key discussion topic for attendees of the Next Generation Mining Summit CIS 2011, which will be taking place from 18-20 October 2011 in Moscow, Russia. This closed-door summit, hosted by GDS International, is set to feature some of the leading voices in the regional mining sector, including Nikolai Vlasov, Chief Geologist at Petropavlovsk (

LON:POG
); Roman Panov, Head of International Assets & Operations at Norilsk Nickel (

LON:MNOD
); and Evgeny Charkin, CIO at Severstal (MCX:CHMF) (

LON:SVST
).
"Technology is key and at present the industry is being handicapped by the lack of state-of-the-art solutions needed to increase productivity," says Karl Axford, Director of the Summit. "With a number of major Russian mining companies looking to expand and diversify, opportunities are opening fast for leading-edge technology and equipment suppliers."
Along with strategic decision-making and technology investment, other key topics for discussion will include process optimisation, lowering risks and costs through strategic logistics, and addressing HSE standards and regulations.
Next Generation Mining Summit CIS 2011 is an exclusive C-level event reserved for 100 participants that includes expert workshops, facilitated roundtables, peer-to-peer networks and co-ordinated meetings.
For more information, visit
http://www.ngminingcis.com
About GDS International
GDS International is a leading business-to-business events company. We offer financial, healthcare, IT service management, telecoms and oil and gas summits for senior executives throughout the Asia Pacific, Africa, China, Europe, North America and Russia markets. Our value proposition is simple: we deliver real results. And we're very good at it. www.gdsinternational.com

Related CompaniesSeverstal
Petropavlovsk PLC












MMC Norilsk Nickel









GDS International