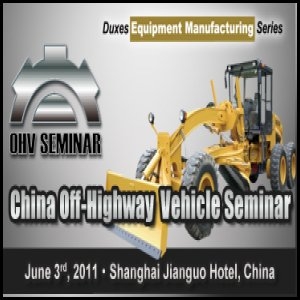 Shanghai, May 5, 2011 AEST (ABN Newswire) - Organized by Duxes Business Consulting Inc., and hosted by leaders of the Chinese government and top executives of international businesses, the China Off-Highway Vehicle Seminar 2011 will be held on the June 3rd, 2011 at the Shanghai Galaxy Hotel, Shanghai, China.
In China, the OHV industry witnessed booming developments in 2010, with accelerating prospects throughout 2011 under China's 12th Five Year Plan. According to forecasts from the China Construction Machinery Association, demand for construction machinery in China will reach roughly 900 billion RMB by 2015.
The 2011 Seminar will provide an effective platform for participants to familiarize themselves with China's newest policies and regulations concerning the OHV industry. Because many leading OEMs have individual procurement criteria and vendor management systems, the 2011 Seminar will focus on procurement, perhaps the most important factor determining material costs and subsequent cost management.
With the great success of last three off-highway vehicle summits, the 2011 Seminar is launched. Prominent speakers include top executives from the China Construction Machinery Association, Liu Gong Research Institute, Sang Group and Wei Chai Power (

SHE:000338
) among others.
For registration or inquiries, please send email to events@duxes.cn.
For more information, please visit the official event website:
http://www.duxes-event.com/ohvseminar
About Duxes Business Consulting Inc.
Based in Shanghai China, Duxes Business Consulting Inc. is a joint venture and one of the industry leaders committed to providing professional business and management consulting services to businesses in China with foreign investments as well as international businesses that intend or plan to enter the China market.

Rainie Shi
Marketing Specialist
Duxes Business Consulting Inc.
Tel: +86-21-5258-8005
Fax: +86-21-5258-8011
Related CompaniesWeichai Power Company Limited






Duxes Business Consulting Inc.