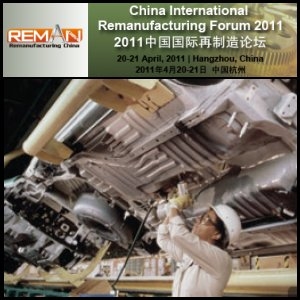 China International Remanufacturing Forum 2011 To Focus On Remanufacturing Policy, Development And Trends In China
Shanghai, Mar 22, 2011 AEST (ABN Newswire) - China International Remanufacturing Forum 2011 will be held by Duxes Business Consulting inc. on April 20-21 at the Zhejiang Hotel, Hangzhou, China. The forum will examine the latest policy disclosures regarding China's remanufacturing industry and provide a platform for international remanufacturers to share development strategies, emerging trends and new technologies.
The forum is directed by China's National Development and Reform Commission and the China Academy of Engineering. Leading specialists of the reman industry will host the forum, including the National Key Laboratory for Remanufacturing, the European Automotive Parts Remanufacturing Association and the University of Bayreuth, Germany. Central to the forum's discussion will be the new economic growth plan established by the NDRC and the Chinese government on May 13, 2010 known as the Views on Promoting the Development of Remanufacturing Industry. The plan was issued in order to fully implement 2009's Circular Economy Promotion Law of the People's Republic of China. These policies have enabled both rapid development of the industry and the upgrading of global remanufacturing technologies.
Keynote speakers include reman industry leaders from China, Germany, UK, the US and various international government officials, providing an in depth look at how new policies and regulations effect the global reman industry, with perspectives on policy, development and technology. Additional topics underlying the forum include: import/export licensing, automotive OEMs, electronic and mechatronics reman, joint venture opportunities and brand building.
For registration or enquiries, please send email to events@duxes.cn
For more information, please visit the official event website
http://www.remanchinaforum.com
About Duxes Business Consulting Inc.
Based in Shanghai China, Duxes Business Consulting Inc. is a joint venture and one of the industry leaders committed to providing professional business and management consulting services to businesses in China with foreign investments as well as international businesses that intend or plan to enter the China market.

Related CompaniesDuxes Business Consulting Inc.