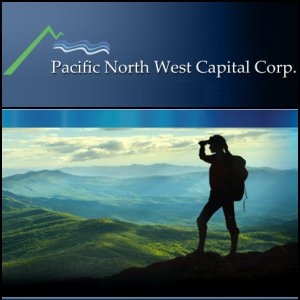 Pacific North West Capital Corp. (TSE:PFN) Attending 2011 PDAC International Convention, Toronto, Canada
Vancouver, Feb 24, 2011 AEST (ABN Newswire) - Pacific North West Capital Corp. (

TSE:PFN
) (OTCQX:PAWEF) (ETR:P7J) will be exhibiting at the 2011 PDAC International Convention, Trade Show & Investors Exchange in Toronto, Canada at the Metro Toronto Convention Centre and would like to invite attendees to visit us at booth 2129. Pacific North West Capital Corp will also be attending this year's Mines and Money Conference in Hong Kong, March 22-25, 2011 at the Hong Kong Convention and Exhibition Centre.
PFN is a mineral exploration company focused on the exploration and development of platinum group metals (PGM), precious and base metals. Management's corporate philosophy is to be a project generator, explorer and operator with the objective to option or joint venture projects with major mining companies through to production.
POINTS OF INTEREST
- 100% acquisition of River Valley Platinum Group Metals (PGM) Project
- River Valley is one of North America's newest standalone PGM discoveries
- Anglo Platinum obtains 12% interest in PFN
- New 43-101 on Destiny Gold Project:
- January 2011 Significant Increase on new resource
- Aggressive development plans slated for 2011
- Aggressive development of the River Valley project planned for 2011 and beyond
- Aggressive exploration program for Rock & Roll Polymetallic Project slated for summer 2011
- Nixon Fork Gold Mine slated for production summer 2011, PFN will continue to participate in the upside of Nixon Fork through its ownership of shares in Fire River Gold (

CVE:FAU
)
- Senior technical and administrative staff/consultants added
- Significant technical and financial global contacts made
- Aggressive ongoing acquisition program.
For more information on Pacific North West Capital Corp, please visit:
http://www.pfncapital.com
For more information on the PDAC International Convention, please visit:
http://www.pdac.ca
About New Age Metals Inc

ABOUT NAM'S PGM DIVISION
NAM's (CVE:NAM) (OTCMKTS:NMTLF) flagship project is its 100% owned River Valley PGM Project (NAM Website – River Valley Project) in the Sudbury Mining District of Northern Ontario (100 km east of Sudbury, Ontario). Presently the River Valley Project is North America's largest undeveloped primary PGM deposit with Measured + Indicated Mineral Resources of 160 million tonnes @ 0.44 g/t Palladium, 0.17 g/t Platinum, 0.03 g/t Gold, with a PdEq metal grade of 0.90 g/t at a cut-off grade of 0.4 g/t PdEq equating to 3,297,000 ounces PGM plus Gold and 4,626,000 PdEq Ounces. This equates to 4,626,000 PdEq ounces M+I and 2,714,000 PdEq ounces in Inferred classification (see May 8th, 2018 press release).
NAM is currently conducting Phase 4 of their proposed 2018 exploration and development program. The current program is based on recommendations of previous geophysical studies and reviews by the company's consultants, recent drilling, ongoing advanced metallurgical and minerology studies and selective pit design drill programs. The results of Phase 4 will assist in early PEA work being conducted by P&E Mining Consultants Inc and DRA Americas Inc and is meant to contribute towards the River Valley PEA. Mr. Michael Neumann, P.Eng., a veteran mining engineer and one of NAM's directors, will oversee the completion of the PEA.

Pacific North West Capital Corp.

Toll Free: 1-800-667-1870
Telephone: +1-604-685-1870
Facsimile: +1-604-685-8045
Email: info@pfncapital.com
http://www.pfncapital.com

Related CompaniesPDAC


New Age Metals Inc
Fire River Gold Corp.