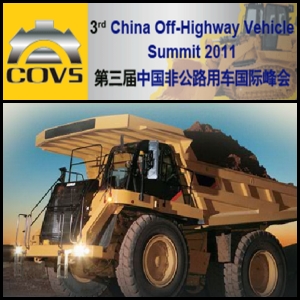 3rd China Off-Highway Vehicle Summit 2011 To Be Held In January In Beijing
Beijing, Dec 29, 2010 AEST (ABN Newswire) - Organized by Duxes Business Consulting Inc. and endorsed by powerful organizations around the world, 3rd China Off-Highway Vehicle Summit 2011 will take place on 17-18 January, 2011 in Beijing, China.
Contributed from implementation of the drive to revive equipment manufacturing industry, sales revenue of construction machinery is expected to reach 400 billion yuan in 2010. Meanwhile, that of agri-machinery, mining machinery and components is to increase by 15%, 8% and 12-15% respectively. Energy efficiency and emission reduction being focus of off-highway vehicle industry, growing numbers of leading OEMs are developing environment-friendly and highly efficient machinery, which will be the trend.
With the previous two annual events being great successes that gathered 246 high-profile delegates, the 3rd China Off-Highway Vehicle Summit 2011 is to be held with the strong recommendation of previous speakers and attendants.
The summit will provide an effective platform for the participants to learn latest industrial policies and regulations, to explore Chinese and international market, and to strengthen cooperation between OEMs and components providers. Speakers from Chinese central government like NDRC, SAT, MEP, MOA as well as world-leading companies including Caterpillar (

NYSE:CAT
), Bucyrus (

NASDAQ:BUCY
), XCMG (

SHE:000425
), CNH (

NYSE:CNH
) etc. will share with the attendees their precious experience and opinions on China Off-Highway Vehicle industry.
Event Time: 17-18 January, 2011
Venue: Kuntai Royal Hotel, Beijing, China
Organizer: Duxes Business Consulting Inc.
Website:
http://www.duxes-events.com/covs_3
About Duxes Business Consulting Inc.
Based in Shanghai China, Duxes Business Consulting Inc. is a joint venture and one of the industry leaders committed to providing professional business and management consulting services to businesses in China with foreign investments as well as international businesses that intend or plan to enter the China market.

Related CompaniesXCMG Construction Machinery Co., Ltd.



Duxes Business Consulting Inc.



CNH Global N.V.



Caterpillar Inc.





Bucyrus International, Inc.