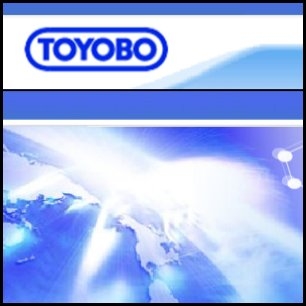 Sydney, Feb 18, 2010 AEST (ABN Newswire) - Wall Street extended gains on Wednesday on strong economic data and favorable earnings. US dollar was also boosted against yen and euro after evidence of a strengthening U.S. economy.
Asian markets rallied Wednesday led by resources shares. Japan's Nikkei surged 2.7 per cent while Japanese exporters were helped by the weaker yen. Hong Kong market rose 1.3 per cent led by Chinese banks, as investors digested the Chinese government's decision before the Lunar New Year holiday to increase bank reserve requirement. Singapore also resumed trading on Wednesday and posted a 1.3 per cent gain. Today Shanghai and Taiwan markets remained closed.
Company News
Toyobo Co.(

TYO:3101
) will set up a joint company to produce and sell reverse osmosis membranes for seawater desalination in Saudi Arabia. The joint venture, with a total investment of 700 million yen, will be launched with Japanese trader Itochu Corp. (

TYO:8001
) and a Saudi Arabian infrastructure company in March this year. The joint company aims to supply desalination facilities in the Middle East and Africa and plans to start production in March 2011. It will be owned 49 percent by the Saudi Arabian firm, 36.1 percent by Toyobo and 14.9 percent by Itochu.
Singapore-listed developers Yanlord Land Group Ltd. (SIN:Z25) along with Ho Bee Investment Ltd (SIN:H13) said in a statement that they have jointly acquired a residential development site in Shanghai for CNY3.82 billion at a public auction. Yanlord will own 60% of the development site, while Ho Bee will own 40%. The project is expected to generate at least 2,000 units to be launched in phases over six to eight years.
A consortium led by China's second largest telecoms firm China Unicom (

HKG:0762
) has made an offer of US$2.5 billion to gain control of Nigeria's former state-owned telecommunications monopoly. The consortium was yesterday declared the preferred bidder of the Nigeria Telecommunications Limited. The deal puts Unicom ahead of larger rival China Mobile in the race for strategic telecommunications joint ventures in Africa and other emerging markets.
Japan's JFE Steel Corp., a subsidiary of JFE Holdings (

TYO:5411
), may raise its stake in the company Mycron Steel Bhd (

KUL:MYCRON
), Mycron chief executive officer Azlan Abdullah said. JFE, which recently bought 3% of Malaysian cold-rolled steel sheet maker, has signed with Mycron a strategic collaboration pact, in which Mycron will get a regular supplier for its raw steel material needs.
Michelle Liang
Asia Business News Asia Bureau
Tel: +61-2-9247-4344
Email: michelle.liang@abnnewswire.net
Related CompaniesYanlord Land Group Limited






Toyobo Co., Ltd






Mycron Steel Berhad






JFE Holdings










Itochu Corporation









Ho Bee Investment Limited






China Unicom (Hong Kong) Limited