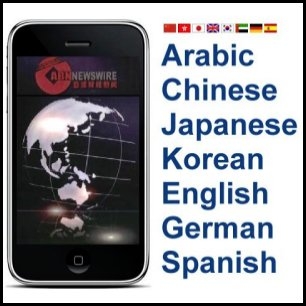 ABN Newswire Launches iPhone Finance News Application
Sydney, Dec 23, 2009 AEST (ABN Newswire) - ABN Newswire announces the launch of a multi-language financial news application designed especially for the new generation of Apple iPhone users. The application is targeted towards investors who need time critical breaking press releases and company news delivered to their mobile device in their native language.
In addition to breaking news in multiple languages, a video feed is also provided, giving market updates on the Asian Financial Market.
The application was developed on the new Red Foundry iPhone application builder that allows rapid build and deployment of iPhone Applications.
"Red Foundry's Jim Heising and Ron Franczyk were instrumental in providing us with all the support to launch the application and we found the build and deployment of this software to be astonishingly easy." said Tim Mckinnon CEO of ABN Newswire.
The ABN Newswire Apple iPhone application is available on the Apple iTunes Store by searching for "ABN Newswire" within the Apple iTunes Application Store on any iPhone or computer running iTunes. Installing on an iPhone is a simple and convenient "drag and drop" download from the store.
Financial news is continually updated throughout the trading day and covers companies listed primarily on Shanghai (SHA), Shenzhen (SHE), Hong Kong (HKG), Sydney (ASX), Tokyo (TYO) and Seoul (SEO) stock exchanges. Financial performance charts and intra-day pricing data is displayed via links within news releases direct to company profile data.
About Red Foundry
Red Foundry is quite simply the most powerful, easiest and cost-effective way to build a high quality native application for the Apple iPhone. Visit
http://www.redfoundry.com
About ABN Newswire

ABN Newswire is a leading communications technology company, and electronically publishes and distributes corporate and financial video, news and information from publicly listed companies directly to investors and financial media outlets worldwide in multiple languages through a professional database network and financial news distribution platform.
Access ABN Newswire on Bloomberg: {ABZN -go-}
Access ABN Newswire on Thomson-Reuters Eikon: {ABNNEW}
Related CompaniesApple Inc






ABN Newswire