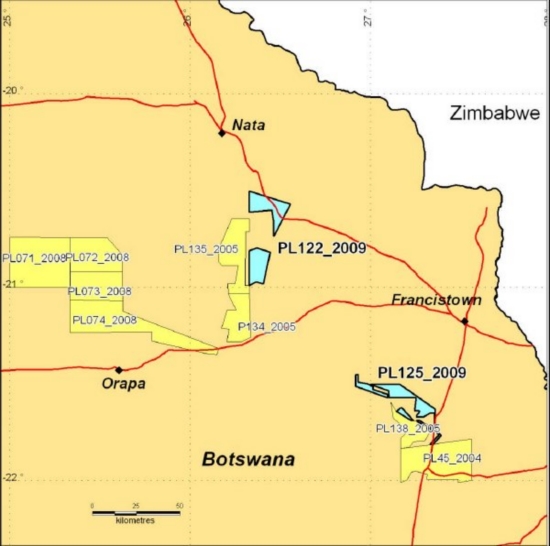 A Map of NE Botswana in the Francistown area highlighting the two new PLs granted to A-Cap. New A-Cap PLs are shown in Blue. Existing A-Cap PLs are shown in Yellow
Melbourne, June 9, 2009 AEST (ABN Newswire) - A-Cap Resources Limited (ASX:ACB) announce promising results have been received from drilling at the Gorgon North Prospect as part of a planned resource upgrade which will occur in the 2nd half of 2009. Two new uranium exploration Prospecting Licences have been granted to A-Cap in North Eastern Botswana, and a call for tenders for the feasibility study of the Letlhakane Uranium Project has been made to a selected group of respected Resource, Mining and Mineral Process Management companies.
DRILLING RESULTS
Since the recommencement of drilling in May 2009 a total of 134 Reverse Circulation (RC) percussion holes for approximately 4800m has been completed at the Gorgon North Prospect.
This drilling was planned to close up drill spacing to improve geological confidence in respect to the continuity of lithological units and mineralisation.
Importantly the drilling was based around planned pit shells identified during the 2008 scoping study completed by SRK and the intersections encountered in the current program confirm the presence and continuity of uranium mineralisation throughout this area. The drilling has been so successful that the program has been expanded by a further 2000m to follow up on newly identified areas of good grades and thickness.
Geologically the mineralisation observed in the RC chips is classified as primary sandstone and carbonaceous-mudstone hosted. Mineralised intersections occur both above and below the base of oxidation. However, geological interpretation suggests the uranium is not significantly mobilised during the weathering event and the distribution of uranium is primarily controlled by the sedimentary facies distribution. Broadly speaking ore horizons are flat-lying, tabular bodies several hundreds of metres in extent and associated with particular horizons within the Karoo stratigraphy In many holes multiple intersections are noted which is significant in terms of in pit stripping ratios.
NEWPROSPECTING LICENCES
Two new Prospecting Licences (PL)have been granted to A-Cap by the Department of Geological Survey Botswana (DGS); PL122_2009 is immediately east of the existing Mea and Sua PLs, and PL 125_2009 is to the north of the Letlhakane Project. Both licences cover a portion of the Karoo Supergroup -Proterozoic Basement unconformity. It is this area which is considered by A-Cap to be especially prospective for uranium mineralisation. The licences in question have been granted for a period of three years and field checking of anomalies within both licences will commence in the second half of 2009.
FEASIBILITY STUDY
A call for tenders for a feasibility study on the Letlhakane Uranium Project has been issued to preferred contractors. A-Cap staff has now met with all groups who have been asked to tender and project data has been provided. Companies have been requested to submit their tenders by late June and an announcement of the Feasibility manager will be made during the third quarter 2009.
SUMMARY
The Board of A-Cap is pleased with the ongoing drilling success at the Letlhakane Uranium Project and is working on a revised exploration plan and budget that reflects the Company's improved cash position after the Capital Raise announced to the ASX on May 6th 2009.
A significant proportion of the funds recently raised will be utilised in completing the feasibility study of the Letlhakane Uranium Project due to commence in the third quarter of 2009.
The two new tenements take A-Cap's ground holding to over 6,000 square kilometres within Botswana. Significant radiometric anomalism has been previously identified across this prospective ground holding.
About A-Cap Resources Limited
A-Cap holds six prospecting licences covering a total area of over 4,400km2 and three licences under application covering a further 3,000km2. All of the ground held by A-Cap has been previously explored by major companies such as Falconbridge, BCL, Urangesellchaft and Union. All of A-Cap's tenements have significant radiometric anomalies and indications of Uranium mineralisation exposed at surface. Significant discoveries have been made at the Letlhakane Project resulting in an Inferred Resource of 30 Million lb Uranium (at an 80ppm cut-off) that has been defined in accordance with the JORC code.

Dr Andrew J. Tunks
Managing Director
A-Cap Resources
Tel: +61-3-9813-3228
Fax: +61-3-9813-2668
Related CompaniesA-Cap Resources Limited