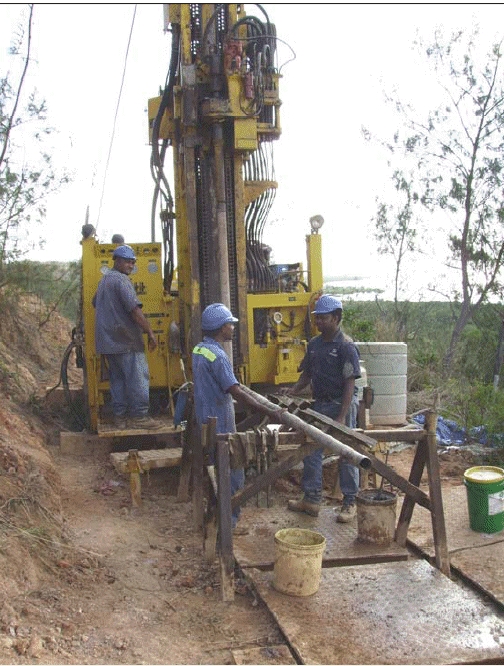 Drill rig at FAD017A, Faddys Gold Deposit
Sydney, Nov 27, 2008 AEST (ABN Newswire) - Geopacific Resources NL (ASX:GPR) is pleased to announce that assays from diamond drilling completed last month at the Faddy's Gold Deposit, south of Nadi, Viti Levu, Fiji include 'bonanza' high-grade, nearsurface gold ranging up to 138.3g/t gold (4.46 ounces/t Au) in 0.5m sample intervals of whole drill core.
High-grade diamond drill core intervals include:
- 2m of 90.0g/t Au between 12-14m in drill hole FAD019, including 0.5m of 138.3g/t Au
- 0.5m of 17.25g/t Au between 65-65.5m in FAD002
- 0.5m 16.33g/t Au between 16-16.5m in FAD008
- 0.5m of 28.33g/t Au between 32-32.5m in FAD012
- Trench samples include 1m of 66g/t Au at 10m in trench FT1
Twenty diamond drill holes at the north eastern portion of Geopacific's Faddy's Gold Deposit were completed in November (1,198 metres of drilling). Numerous trenches within outcropping gossan above the drilled area have also been sampled.
On 18 September Geopacific announced high-grade gold in drill hole FAD001 (80.5 - 81.0m of 73.2g/t Au). The new bonanza gold intersection in FAD019 (12.0-14.0m of 90.0g/t Au) appears to be the oxidised near-surface expression of this deeper sulphidic mineralisation which was also intersected in FAD002 and FAD012. These drill holes are located near the western part of the recent drilling programme.
Assays of core and channel samples from many of the new drill holes and trenches are in queue for assay and further anomalous gold is expected to be returned during the next several weeks. Silver and base metal assay data are also expected.
This discovery of shallow high-grade gold with dimensions of at least 80 metres along strike and 120 metres down dip, is likely to considerably enhance the economic viability of an open cut gold mine at the Faddy's Gold Deposit for which an Inferred Resource of 920,000t of 4.9g/t gold (144,000 ounces of contained gold) was estimated prior to this discovery.
Geopacific is planning a follow-up programme of shallow drill testing and costeaning to define the extent of the 'bonanza' gold zone in FAD019 in the south and western portion of Figure 1 as part of scoping studies for mining.
Sampling of the bonanza grade interval in diamond hole FAD019 (12-14m of 90.0g/t gold) was by selection of whole, HQ size, triple tube drill core over 0.5m intervals. Three replicate assays were undertaken on two separate splits of pulp sample on each 0.5m sampled interval and the reported gold values are the averaged data of each of the six assays on individual 0.5m samples. Repeated assays are within expected variability for this type of deposit.
Other information on the Company's projects and previous Geopacific announcements are available on Geopacific's website at www.geopacific.com.au.
Competent Person
The review of exploration activities and results contained in this report is based on information compiled by Dr Ian Pringle, a Member of the Australasian Institute of Mining and Metallurgy. Dr Pringle is the Managing Director of Geopacific Resources NL and also a Principle of Ian J Pringle & Associates Pty Ltd, a consultancy company in minerals exploration. He has sufficient experience which is relevant to the style of mineralization and types of deposits under consideration and to the activity which he is undertaking to qualify as a Competent Person as defined in the December 2004 edition of the Australasian Code for Reporting of Exploration Results, Mineral Resources and Ore Reserves (the JORC Code). Dr Pringle has consented to the inclusion in this report of the matters based on his information in the form and context in which it appears.
About Geopacific Resources Ltd

Geopacific Resources Ltd (ASX:GPR) has been listed on the Australian Stock Exchange (ASX) since 2006. The Company's initial activities were on its tenement holdings in Fiji where its exploration activities have identified several highly prospective project areas.
When Geopacific merged with World Wide Mining in 2013 the Company became a regional explorer with an Asia-Pacific-focus – adding the Kou Sa Project in Cambodia to its existing Fijian Projects. Economic conditions then led the Company to adopt a single-project strategy, focussed on Kou Sa. The experience of Geopacific's Board and Senior Management Team equips the Company with the capability and capacity to run projects concurrently – exploration at the Fijian Projects will therefore recommence while work at Kou Sa continues.
Ian Pringle
Managing Director
TEL: +61-2-9699-7311
Email: ianp@geopacific.com.au
Web: www.geopacific.com.au
Related CompaniesGeopacific Resources Ltd